'Gotham's Nygma and Penguin Reunite! (VIDEO)
Riddle us this: What has four legs, six eyes and feathers?
In this exclusive clip from tonight's Gotham, the answer is #Edwald! That's right, Edward Nygma (Cory Michael Smith) and Oswald (Robin Lord Taylor) reunite following Penguin's release from Arkham Asylum last week. And while it's maybe not the happiest of meet-ups, given Oswald's shock therapy-induced appreciation of the non-violent life, it is still a joy to see the guys sharing the screen once again.
PHOTO: A Penguin Family Portrait With Paul Reubens
Let's just hope Edward can get his pal to play not-so-nice again soon. After all, there's a certain pair who need to pay for Oswald's embarrassing feathered situation seen in the clip.
Gotham airs Mondays at 8/7c on Fox. But if you need even more Nygma before then, check out this supercut of his best head-scratchers!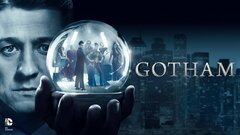 Gotham
where to stream
Powered by