'Shots Fired' Casts Helen Hunt, Richard Dreyfuss and Stephen Moyer
Three TV veterans will be making an impact on Fox's Shots Fired.
Helen Hunt (Mad About You), Stephen Moyer (True Blood) and Richard Dreyfuss (recently seen on Madoff) have joined the cast of the event series. Hunt will fill the role of the (fictional) first female governor of North Carolina, Patrician Eamons, while Moyer will portray Office Breeland, an experienced blue blood in the Sheriff's Department. As for Dreyfuss, he'll inhabit the role of Arlen Cox, a real estate mogul/privatized prison owner. All three will find themselves deeply involved in everything that happens after a racially-charged shooting in a small town.
The series also stars the two leads, Sanaa Lathan as investigator Ashe Bell and Stephan James as DOJ special prosecutor Treston Perry, whose characters will work together to untangle the truth and find justice for everyone. Other cast members include Aisha Hinds (Under the Dome) as the activist Pastor Janae James who finds herself loving the media attention, and Tristan Wilds (The Wire) as Officer Belk, who comes under investigation for the shooting.
Shots Fired will debut later in 2016.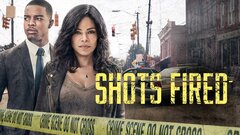 Powered by