'Quantico' EP Explains That Explosive (and Necessary) Death
Warning: This article includes spoilers from Sunday night's episode, so read at your own risk.
Boom goes the dynamo! Quantico killed off a fiery character in the final moments of Sunday night's episode and although it had been teased the week before, the tragic twist did not come the way we expected.
At the end of last week's hour, Alex (Priyanka Chopra) was lured by a terrorist's muffled phone call into a late-night meeting with fellow agent Natalie Vasquez (Anabelle Acosta), who'd been abducted and fit with a belt of explosives shortly after Alex's re-instatement into the FBI. Thanks to some quick thinking and the ladies' maneuvering within the Agency, they were able to free Natalie by the middle of tonight's episode and begin a hunt for whomever had strapped her into the unpleasant accessory. That was where they screwed up: Against the faceless threat's warnings to cooperate or else, the pair's mission led them to what appeared to be the terrorist's hideout, but while Alex was out of the room trying to get a signal on her cell, a laptop containing crucial evidence triggered a blast that sent Vasquez to the great Langley in the sky.
RELATED: 12 Things to Expect in the Remaining Quantico Episodes
"[Alex] realizes that was a mistake that she and Natalie made together," says executive producer Josh Safran. "They went against the terrorist and the terrorist said, 'You're going to pay the price for it.'
So why Vasquez? Safran confesses that she didn't always have a target on her back.
"The only thing that we knew was that she was going to go from being a sh-t-stirrer to being a true member of the team," he continues, citing Episode 11 when the women of Quantico bonded over Christmas break. "But we felt like we were playing a little fast and loose, and the fact that people weren't actually dying….you can't have a terrorist threaten to do things and not follow through, and we realized that [the] person who would be the saddest for our characters in this moment would be Natalie because she and Alex had actually grown a bond."
In fact, Natalie— revealed to be a single mother fighting for custody of her daughter during the training portions of the storyline—had evolved into one of Alex's few allies in the post-bombing timeline. "You saw in the midseason premiere, she was still the only one still on Alex's side. Even though she's not agreeing with Alex, she was trying to handle her but still stay her friend." That level of loyalty, matched with Natalie's sympathetic domestic backstory, made her loss the most likely to leave a mark. "We wanted to tell the audience that, yes she solved her issues with her daughter, but she still died. People aren't going to ride off into the sunset on Quantico."
So prepare to say goodbye to more NATs, warns Safran. "Just to be clear, Natalie is by far not the only person who is going to die in the back half of the show."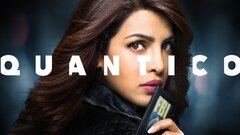 Powered by