What's Worth Watching: Nora Ephron, 'Dancing With The Stars', 'Bates Motel' and more for Monday, March 21
Everything Is Copy: Nora Ephron: Scripted & Unscripted (9/8c, HBO): "Writers are cannibals," Nora Ephron once famously told Charlie Rose of her professional penchant for taking the raw material of life and turning it into grist for barbed commentary and the stuff of great cinematic fiction. Her son Jacob Bernstein wrote and directed this compelling portrait of Ephron, whose death at 71 in 2012 from a rare blood disorder shocked many because she hid the fact of her illness from her nearest and dearest. Tracing her career from journalist to novelist-screenwriter-director of iconic rom-coms including When Harry Met Sally and Sleepless in Seattle, the film portrays Ephron as a wickedly funny and unsparing wit who intimidated even the likes of Steven Spielberg, who speaks candidly of always seeking her approval and laughter. As Bernstein notes, "It is very powerful to be someone who is both loved and feared." But, as Copy reminds us, mostly loved.
Dancing With the Stars (8/7c, ABC): Here we go again, for the 22nd time, watching another eclectic assembly of pop-culture curiosities strap on their dancing shoes with varying degrees of success. This platform makes some people famous (see: Rumer Willis), others infamous, and the fun is seeing who emerges as audience favorites, or not. This year's cast is heavy on athletes—three from the NFL (Super Bowl MVP Von Miller, Doug Flutie, Antonio Brown) and a UFC fighter (Paige Van Zant, seen as an early front-runner)—and for topicality, a former Mrs. Trump (Marla Maples). The wild card: Geraldo Rivera. Can he survive the first week?
Bates Motel (9/8c, A&E): Skipping the bridal shower—which in the context of this series' source material might be a good thing—Norma (Vera Farmiga) and Sheriff Romero (Nestor Carbonell) become husband and wife. Which probably won't sit too well with the dangerously schizoid Norman (Freddie Highmore), no one's idea of a best man.
Better Call Saul (10/9c, AMC): The story of Jimmy/not-yet-Saul (Bob Odenkirk) mostly takes a back seat this week to focus on the potentially improving career prospects of an ambivalent Kim (Rhea Seehorn), and the increasingly treacherous quagmire being navigated by Mike (Jonathan Banks) as he fights to protect his family from the criminals he can't seem to shake no matter how hard he tries. How all of these disparate elements fit together remains to be seen, but this remains one of TV's more satisfying slow burns.
Inside Monday TV: Hooray to the CW for the early, and somewhat surprise, renewal for the delightful Crazy Ex-Girlfriend (8/7c), which welcomes Glee's Amber Riley and Ricki Lake for another of the show's inspired musical flights of fancy, as Hawaii-bound Rebecca (Rachel Bloom) finds herself seated on a plane next to her therapist. … Paul Reubens abandons his Pee-wee Herman persona (revived last week for Netflix's Pee-wee's Big Holiday) to play a much creepier character on Fox's Gotham (8/7): the father of the twisted Penguin (Robin Lord Taylor). … Friday Night Lights' Scott Porter begins a recurring role on CBS's Scorpion (9/8c) as Tim Armstrong, Cabe's (Robert Patrick) new protégé from Homeland Security. When Cabe is captured while on an assignment in Djibouti, Tim enlists Team Scorpion to come, as usual, to the rescue.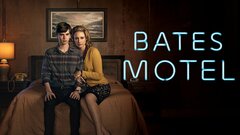 Powered by