'Scream' Season 2 Gets a Premiere Date—and New Victims
Mark your calendars and grab your tire-irons, Scream fans, because come Tuesday, May 31, the bloodshed begins again.
Currently filming in New Orleans with new showrunners Michael Gans and Richard Register (Make It or Break It), MTV's adaptation of the horror-film franchise is set to pick up several months after Emma Duvall (Willa Fitzgerald) fatally shot half-sister Piper (Amelia Rose) for being the masked maniac terrorizing the town of Lakewood.
When the show returns, Emma is just coming home from a retreat meant to help her heal from the worst year ever, while pal Audrey (Bex Taylor-Klaus) continues to hide her role in the killings and Brooke (the scene-stealing Carlson Young) is busy trying to keep her fling with Jake (Tom Maden) a secret from her father, Mayor Maddox (Bryan Batt).
But a new killer begins to prey on the locals, so you can bet that anything these kids are keeping buried will come back to haunt them—if not hack them to pieces entirely. Here's a peek at the network's promo poster-slash-melting face mask of your nightmares.
And since Lakewood lost so many residents last season, there's, of course, a whole new batch of cast members being lined up for potential slaughter. Among them are singer Kiana Ledé as Zoe, the overachiever with a skeleton in her closet; Banshee's Anthony Ruivivar as Lakewood's new sheriff, Michael Acosta; one-time Faking It guest star Santiago Segura as his son Gustavo; Sean Grandillo, from Broadway's Spring Awakening revival, as Kieran's (Amadeus Serafini) cousin, Eli; Karina Logue (The Affair) as the possibly felonious Tina Hudson; and Austin Highsmith of the Dolphin Tale films as George Washington High's psych teacher. Aside from series regulars Ledé and Segura, the rest of these roles are recurring, so take what you will from that (they are sooo dead), and along with Serafini's Keiran, other first-season survivors slated to return are Tracey Middendorf as Emma's mom, Maggie, and John Karna's Noah.
Scream premieres Tuesday, May 31 at 10/9c on MTV.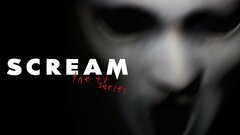 Scream
where to stream
Powered by