TLC's 'Fat Chance' Wants You to Lose Weight 'and' Find Love (VIDEO)
Love and weight loss have made for compelling fodder on TV for years, but TLC's Fat Chance is combining them for the very first time. On Fat Chance, the show's trainer helps participants lose weight in order to help them find love (think The Biggest Loser meets The Bachelor).
In the first episode we'll meet Daniel, a single father and lawyer who has little time to think about his own health. But in the clip below, Daniel teams up with his brother, Joey, who's also his trainer, to tackle an unconventional workout.
The topic of Christina, Daniel's childhood crush, also comes up, which makes Daniel more than a little embarrassed.
Watch the exclusive clip below if you're hungry for more details about the show.
[jwplatform dRoiWC6d]
Fat Chance, Series premiere, Wednesday, February 24, 10/9c, TLC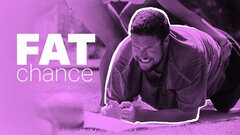 Powered by