WOW-Women Of Wrestling Ready to Make History on AXS TV
In an era when female empowerment has never been more prevalent, WOW-Women Of Wrestling is primed for its biggest platform ever with a Friday prime-time slot on AXS TV. Featuring a roster full of diverse athletes and unique characters, the promotion is backed by Los Angeles Lakers owner Jeanie Buss and original GLOW (Gorgeous Ladies of Wrestling) founder David McLane.
The historic nature of this opportunity is not lost on veteran Selina Majors, one of the true trailblazers of the promotion going back to its roots at the start of the new millennium. It was then that Majors headlined the one and only WOW Pay-Per-View event Unleashed against Thug (Peggy Lee). Majors has since retired from the ring, but wears a number of hats behind the scenes of WOW, including trainer and mentor.
"For me to see this new show to come about, I feel so blessed. It's just such a thrill," Majors said. "At the same time, to see women's wrestling evolve like it has, I was trying to do that early in my career. Maybe the world wasn't ready for it. I'm not sure. But now the girls have really caught on with their wrestling ability and the kind of matches they have. It's unbelievable to be able to see the growth."
At 52, Majors has never been more fulfilled as she helps those along in the industry she loves so much. The Georgia native believes everything happens for a reason, and her 30 years in the business got her to this point.
"I had a great wrestling journey and career," Majors said. "I live vicariously through the current women of WOW. It's funny; I sent a clip of the show to my sister. She said, 'Well, you're not on that.' I go, 'I am. I'm all over it. I'm living vicariously through each and every one of those girls.' I'm so proud of all of them."
"The Governor's Daughter" Abilene Maverick beams with pride knowing all the hard work over the last six years with WOW was all worth it. For her, it wasn't long ago when many scoffed at the idea of an all-women locker room. Maverick, known in some rings as Barbi Hayden, recalls being overcome with emotion and tears in her eyes after the TV deal on the Marc Cuban network was announced.
See Also
The MMA fighter turned pro wrestler talks what it means to be featured in 'WWE 2K19.'
"We had so many people shut doors in our faces," she said. "They didn't think a company like this would survive. Now we've seen women's wrestling evolve so much and change incredibly. Before we had to beg for a spot on place on the card. We were lucky to just valet or maybe a five-minute match. Now we are headlining. We are on the happening place for wrestling on Friday nights with New Japan Pro Wrestling. For AXS to give us this timeslot, that was a huge deal."
Maverick is among the stars, or "Superheroes," who are part of the first episode, battling Fire (Kiera Hogan). Along with some familiar faces are some new ones like third-generation performer Tessa Blanchard, who is no stranger to Maverick. The two made history competing in the first televised women's match from China. Bringing in more accomplished in-ring talents has made all the difference for Maverick.
"It was a shock to the system for everybody, especially for the girls who weren't wrestlers already," she said, "…When you are constantly being compared to other sports like MMA or even the boys in the ring, you have to bring a certain substance. And I think Tessa, Santana Garrett, myself and others help do that."
The 28-year-old believes the presentation of the series, which saw episodes taped in Los Angeles last year, is more polished than any past incarnations. She hopes this is just the beginning with hopes of international exposure and touring for WOW down the line. Maverick is looking forward to having fans, friends and family view the finished product.
"My dad passed away when I was younger, and my grandfather is like my dad. He can't get anywhere or travel to see me wrestle," she said. "This year marks 10 years I've been in wrestling, and he finally gets to see me on TV. To me, that's my greatest accomplishment."
WOW-Women Of Wrestling, Friday, January 18, 9/8c, AXS TV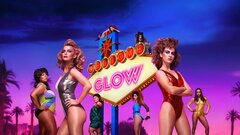 GLOW
where to stream
Powered by
Powered by