5 Questions With Jasmine Guy of Lifetime's 'The Christmas Pact'
On Dec. 2, Lifetime's holiday film The Christmas Pact wonders if a long-ago made promise can lead to life-long love.
Kayla Pratt and Jarod Joseph star as long-time next door neighbors, Sadie and Ben. When the pair were 8 years old, they planted a scrawny, Charlie Brown-looking Christmas tree behind their church and promised to make an annual Christmas wish together.
But now that they're adults, life has gotten in the way, and their Christmas Pact stands to be broken. Both Ben and Sadie need a little holiday magic to keep their tradition and promise to each other, alive — and they could discover that this year's wish is each other.
Jasmine Guy and her former A Different World co-star, Kadeem Hardison, also appear in the Christmas charmer. When TVInsider recently caught up with the actress, she shared a few of her holiday favorites.
1. What TV holiday episode stands out as a favorite?
The episode of A Different World when Whitley finds out that her father is taking his girlfriend to the Alps instead of her.
2. What Christmas gift were you most excited to give?
About 20 years ago, I bought my mom a new car. When I gave it to her, at first she thought the gigantic bow was the present!
3. What is a holiday tradition that your family does every year?
My father plays piano, and the family sings Christmas carols together.
4. Which holiday movie do you watch every year?
Miracle on 34th Street
5. Which childhood Christmas will you never forget?
I once got a Bozo the clown doll, that when you pulled the string he would say, "Hey, I'm your old pal, Bozo!"
The Christmas Pact, Sunday, Dec. 2, 8/7c, Lifetime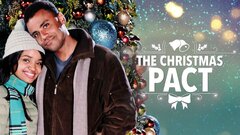 Powered by