'NCIS: LA' Fans Are Not Happy With Mosley & Want Hetty Back
It's a never-ending rollercoaster ride if you're a NCIS: Los Angeles fan, and this week's "Asesinos" was no exception.
As the cartel drama around Mosley (Nia Long) and her son continues to rage on, fans were both shocked and outraged to see that she didn't appear to have anything against selling her colleagues out. In one of the episode's most pivotal scenes, she offers personnel files of her coworkers in exchange for escape money.
Her "rogue" state even lands her on the FBI's Most Wanted list, and while the team wonders if she's turned on them, by the episode's end as a gunfight breaks out, Mosley reveals to Callen (Chris O'Donnell) that the files were fakes and her true motivations were to protect him and herself. But can she be trusted?
As she fled the scene, viewers can't help but question if this is a long-term move for the NCIS Assistant Executive Director. Could she be leaving the show?
After breaking laws and putting herself first, it would be safe to assume she won't be resurfacing anytime soon. Could that mean Hetty's (Linda Hunt) finally returning? Her presence has been minimal in Season 10 as she's been mentioned, but not around L.A. with the team.
Since the investigation surrounding the Mexico mission and Hidoko's death just concluded and Hetty's been declared innocent in the matter, her return could be imminent.
At least that's what fans want! See what they had to say on social media below and let us know what you want to see for NCIS: Los Angeles in the comments.
Great episode! So glad it wasn't continued. Hope we never have to see Mosley again. But we need Hetty.#ncisla

— Ginger (@Gingerbread0157) November 5, 2018
Nope, still hate Mosley!!!! I don't care if they were fake alias!!!! Mosley doesn't and never has cared about the team!!!!! And where is Hetty???? #NCISLA

— Marla (@zoyaroses) November 5, 2018
I'm speechless right now! Mosley went too damn far! #NCISLA pic.twitter.com/E5g24owNtU

— Jarred Braxton (@JBraxt29) November 5, 2018
Oh heck no, Mosley did NOT just sell out her own team member Callen 😡😡😡😡 #NCISLA

— Kevin Ngo (@TheKevNation) November 5, 2018
Well Dammmmnnnnnnn Mosley!!!! @NCISLA #NCISLA @NiaLong 🙌🏼🙌🏼🙌🏼🙌🏼🙌🏼🙌🏼🙌🏼 pic.twitter.com/29WSEsz8Kd

— LAURA 🦄🌈🌊🔥 (@MsLSpatz) November 5, 2018
There's already too much Mosley in this episode and it's only 2 minutes in. Being back hetty #NCISLA

— Kanesha (@KaneshaBarnes21) November 5, 2018
NCIS: Los Angeles, Sundays, 9/8c, CBS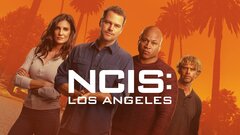 Powered by