'My Brilliant Friend' Is a Story of Breaking Boundaries Says EP Jennifer Schuur
Viva girl power… or, in patriarchal 1950s Italy, the small rebellions of the fairer sex. HBO's new drama My Brilliant Friend, based on the Elena Ferrante bestseller, follows a life-changing friendship between smart, obedient Elena and dazzlingly bright, untameable Lila. Over eight emotional episodes, they mature from children to teens in an impoverished, danger-filled area of Naples.
Post-World War II, "Everyone's trying to put back the pieces of their lives," executive producer Jennifer Schuur says. "Women are wives, mothers and housekeepers. If they fall short, they're beaten. These two girls are wildly different, but their souls speak to each other. That creates friction but is also a great force of love and support."
The time span required casting two sets of actresses: newcomers Elisa Del Genio and Ludovica Nasti as childhood Elena and Lila, and Margherita Mazzucco and Gaia Girace for the later years. Much of the Italian-language series was shot in Italy on an outdoor set — a shabby neighborhood the production team built from scratch.
In their oppressive environment, the less assertive Elena tries to keep up with her friend academically. And Lila stubbornly refuses to abandon a meaningful intellectual life when she's taken out of school to work in her father's shop. "The girls poke at boundaries," dodging groping boys and the pressure to marry, says Schuur, who hopes to adapt all four books (spanning 60 years) in Ferrante's series. "Their friendship challenges and pushes them to be better than what they may have wanted for themselves. It's a love story."
My Brilliant Friend, Series Premiere, Sunday, Nov. 18, 9/8c, HBO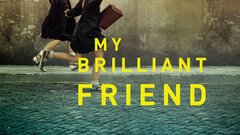 Powered by