Michael Bublé Gets Emotional Over His Son's Cancer Battle During Carpool Karaoke (VIDEO)
Typically The Late Late Show with James Corden's Carpool Karaoke segments are known for being a laughing good time, and while the most recent installment did bring the laughs, it also had us reaching for the tissues.
Singer Michael Bublé appeared in the newest segment as part of Stand Up To Cancer, singing some of his fan favorites including "Haven't Met You Yet," "It's a Beautiful Day," and "Home." Fans of Bublé may remember that his son Noah, now 5, was diagnosed with liver cancer at the age of 3. During the 15-minute segment, he opened up about that battle with host James Corden.
"We got the diagnosis and that was it man, my whole life ended," Bublé revealed to Corden.
Noah is in remission today, but Bublé shared that he tells his son, who loves Spiderman, "Spiderman's amazing, Superman's amazing, but they're fake. They're not real. You're a superhero, you're my hero."
Needless to say it was an emotional ride, filled with even more tearjerking moments, as well as some more light-hearted fun — including a coffee shop order sung through the car window. Corden's father also showed up to play saxophone in a scat battle with Bublé.
The crooner closed out his appearance by asking viewers to take an active role in contributing to cancer research. Don't miss this unique and touching Carpool Karaoke — check it out below.
The Late Late Show with James Corden, Weeknights, CBS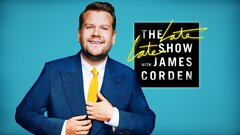 Powered by