Last Night's 'Shark Tank' Pitch Was the Most Emotional One Ever
On Shark Tank, entrepreneurs step onto the carpet to pitch their businesses. Emotions are high, negotiations are tough, and hopefully they walk away with an investment from one of the sharks.
Last night on the business competition series, which is celebrating its tenth season on TV, siblings from Long Island pitched their dad's cooking invention, the Cup Board Pro.
Kaley, Christian, and Keira Young brought everyone to tears with their inspiring story. Their father, Keith, who was a New York firefighter, passed away only three months ago from a type of cancer caused by helping with the cleanup at Ground Zero after the 9/11 terrorist attacks.
See Also
Mark Cuban, Daymond John, Lori Greiner, Barbara Corcoran, and Kevin O'Leary look back at how the series changed TV.
He was a two-time champion on Food Network's Chopped, and his dream was to pitch his bamboo chopping board with a detachable bowl for cleanup on Shark Tank.
This wasn't the only family setback. Just as Keith was receiving his first prototypes, his wife was diagnosed with breast cancer.
"He put everything on hold to be at her side," said Kaley. "On Aug. 22, 2012, God called our mom home, and our dad showed us what strength was in every moment he continued to show up for us, and in life in general. He was a true inspiration, like our mom."
In a rare Shark Tank moment, all five sharks — Daymond John, Matt Higgins, Mark Cuban, Kevin O'Leary, and Lori Greiner — came up with a deal. Together, they offered $100,000 for a 20 percent stake in the business, and also promised to donate their profits to a charity that helps 9/11 firefighters.
Check out their reactions on Twitter below:
Out of my entire decade of being on #SharkTank this was the most emotional pitch I have ever been through. It took everything in me not to walk off the set because my emotions ran so crazy because I was there and lost many friends from 9/11.

— Daymond John (@TheSharkDaymond) October 22, 2018
The most emotional pitch I've seen in 10 seasons of #SharkTank. These young entrepreneurs have such inspiring strength. #CupBoardPro

— Barbara Corcoran (@BarbaraCorcoran) October 22, 2018
My own dad died when I was a kid. I can't imagine losing both parents at their age and showing the kind of strength they are right now. This family is incredible. #SharkTank #CupboardPro

— Kevin O'Leary (@kevinolearytv) October 22, 2018
Their parents would be soooo incredibly proud! They are so impressive, smart & strong! I was blown away. #SharkTank @ABCSharkTank @firehousechefky

— Lori Greiner (@LoriGreiner) October 22, 2018
It has been incredible getting to know the Young family. Their determination to bring their father's vision to life is incredibly inspiring. Honored to work with the @ABCSharkTank Sharks to help ensure #CupBoardPro finds its way into kitchens everywhere. #SharkTank pic.twitter.com/Iwabkis3Ee

— Matt Higgins (@mhiggins) October 22, 2018
Shark Tank, Sundays, 9/8c, ABC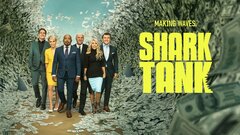 Powered by