'Pennyworth': Jack Bannon & Ben Aldridge Land Lead Roles in Epix's Batman Prequel Series
Epix has found their Alfred in Jack Bannon for their upcoming series Pennyworth, based on the DC character, while they've also found Bruce Wayne's father Thomas in Ben Aldridge.
Fans may know Alfred Pennyworth as Bruce Wayne's (a.k.a. Batman) butler, but in this 10-episode one-hour drama, Pennyworth is a young twentysomething former British SAS soldier. In 1960s London — before Bruce is around — Pennyworth goes into business with his father, billionaire Thomas Wayne.
Described as "boyishly handsome," this "charming" and "clever" young man is honest and witty, so it would be hard to picture him as an SAS killer. As he deals with the turmoil over his transformation from a goodhearted kid into a cold-blooded assassin, he will try and figure out what to make of himself.
Production on the series will begin on October 22 of this year at Warner Bros. Studios Leavesden in the United Kingdom. Viewers will recognize Bannon for his past roles in The Imitation Game and Ripper Street.
Aldridge who is best known for his roles in Fleabag and Skinny Dip will take on the role of billionaire Thomas Wayne who is considered a confident and extremely disciplined young aristocrat from the United States East coast. Both Wayne and Pennyworth become unlikely business partners.
The project comes from executive producer and writer Bruno Heller, best known for his work on shows like Gotham, The Mentalist, and Rome. Danny Cannon also serves as executive producer as well as director. His previous credits include Gotham and CSI.
Pennyworth, Coming Soon, Epix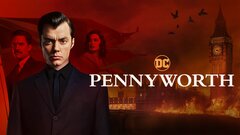 Powered by