'Dream Corp LLC' Cast & EP Break Down the Show's Animation Process (VIDEO)
Season 2 of Dream Corp LLC is nearly here and the executive producer and cast are spilling some behind-the-scenes secrets!
Executive producer Daniel Stessen along with stars Jon Gries, Ahmed Bharoocha, Mark Proksch, and Nick Rutherford chatted with Damian Holbrook about the new season at Comic-Con 2018. They shared everything, from the show's inspiration to what's next and how they pull off a part-animated, part-live-action series.
See Also
The series returns with Season 7 after more than two years off air.
The series, which follows a rotating set of patients in a dream therapy facility, sees Gries as Dr. Roberts, a scientist who works to correct problems in the subconscious but ends up doing more harm than good. Patients suffering from a range of ailments visit Dream Corp LLC, from those hoping to quit smoking to Rutherford's Patient 88 enduring erectile dysfunction.
"I wish it was real," Stessen says about the inspiration for the show.
The cast also spoke about how the show meshes animation and reality. "We get to act it out physically," Gries reveals of the animated portions. That launches the group into a fascinating discussion that can only be seen here!
Check out the entire interview below and be sure to catch Dream Corp LLC when it returns Sunday, October 21.
Dream Corp LLC, Season 2 Premiere, Sunday, October 21, Midnight, Adult Swim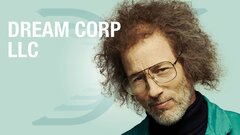 Powered by