'S.W.A.T.' Sneak Peek: Hondo Has a Tough Love Moment (VIDEO)
S.W.A.T. viewers will see a new side of Hondo (Shemar Moore) on tonight's all-new episode!
The tough guy will take on a more paternal role in Thursday's "Gasoline Drum," as seen in an exclusive sneak peek in which Hondo discovers that the son of one of his old friends has been jailed.
See Also
Plus, find out what other challenges are ahead for the show's characters.
He pays the teen a visit, saying, "I thought we had a deal. Daryl, you were gonna live right if I sent you up north to live with your aunt Tanya."
"Aunt Tanya got sick," Daryl counters. He then also reveals that his girlfriend is pregnant and he intends to take care of her and the baby — though he's now wound up in prison.
"Why didn't you just ask me for help?" Hondo shoots back angrily.
Find out why in the exclusive clip below. It's clear that Hondo is broken up about Daryl's situation, and is disappointed to see him following a less fulfilling path in life, so it's fair to assume he'll find a way to help the young guy out.
Also, be sure to tune in tonight for a very special guest star: Luis A. Miranda Jr. — father of Lin-Manuel Miranda! The actor will play Manny, a community-minded fella who paints over the graffiti every morning in East Hollywood.
Check out Lin's excitement below:
My. Dad. Is. Going. To. Be. On. S.W.A.T. https://t.co/0iQUQuPho3

— BOO-snavi De La Vega (@Lin_Manuel) October 2, 2018
S.W.A.T., Thursdays, 10/9c, CBS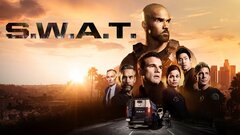 Powered by