'NCIS: New Orleans' Star Scott Bakula Explains Why Pride's 'Not Wired' to Take It Easy
You could say that Scott Bakula is a superstitious guy. Not black-cat-and-broken-mirrors superstitious, but definitely a believer in jinxes. So when the cast and crew of NCIS: New Orleans started filming the series' 100th episode in early September, he refused any sort of group celebration until production was complete.
After all, he had yet to reach that number in a career crowded with favorites like the 1989–93 time-travel drama Quantum Leap (97 episodes) and 2001–05 Starfleet saga Star Trek: Enterprise (98 episodes). Plus, Tropical Storm Gordon was on the radar and rapidly approaching.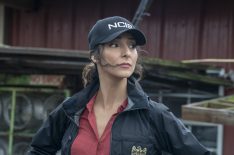 See Also
She's taking over for Special Agent Pride while he recovers from an assassination attempt.
"It was blowing up through the Gulf," he recalls a few days later while sitting at a table in a deserted New Orleans hotel banquet hall. "I kept saying, 'This is going to destroy the 100th episode, and we're going to have to relocate.' We shouldn't have been talking about it!"
It never even drizzled. Call it a good omen…or a sure sign that Mother Nature is a fan of the vibrant CBS drama. In its fifth season, NCIS: New Orleans — in which Bakula's Dwayne "King" Pride and his dogged team solve military-based crimes in and around the Crescent City — has managed to stand out from the pack of procedurals because it focuses just as much on the city's rich history and culture as it does on the investigations. (Would Mark Harmon's Leroy Jethro Gibbs sing and tickle the ivories in his own bar on the D.C.-set NCIS? Don't think so.)
And though 12 million people witnessed an assassination attempt on the NCIS boss in May's Season 4 finale, Pride lives to see changes within the organization. Indeed, the ruggedly handsome actor, who turns 64 this month, believes the series is just now reaching its creative stride.
"This is a good measure to say 'Where are we? Are we failing?' I don't feel like we are," Bakula notes. "All the character development has got everyone around here excited. We have a ton of creative energy."
Changes at the Top
What's three bullets to the chest, anyway, to a man who has already been falsely accused of and indicted for abuse of power (he was cleared), who holds the second-highest arrest record in the history of the Jefferson Parish Sheriff's Office and who once faked his own death in an explosion? "The line in the premiere is 'Anybody else wouldn't have made it through the night,'" says Bakula with a wry smile.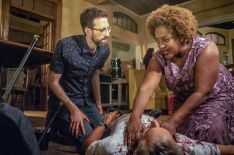 See Also
Also, learn about the other challenges that lay ahead for the team.
Not that the near-fatal shooting doesn't shake his inner circle. Pride's grave condition warranted a check-in from his old colleague Gibbs in the premiere. (Harmon never left the West Coast to shoot his appearance, which Bakula says was accomplished through "plasma screen magic.")
He also receives concerned bedside visits from girlfriend Rita Deveraux (Bakula's wife of nine years, Chelsea Field) and college-age daughter Laurel (Shanley Caswell), who later implores him to take it easy in the Big Easy.
He won't. "That's just how he's wired," Bakula says. "The city means everything to him, and he cares about everyone. It's more important to him than his own life. It's extreme, but it's true." Executive producer Christopher Silber has a more reflective spin: "Being shot will have a huge effect on Pride physically and psychologically. What he's going through gives him an opportunity to change."
To that end, the series jumps eight weeks forward with the October 2 episode, allowing Pride some recovery time. He takes a buttoned-up corporate job as the special agent in charge of the southeast region — he wears a suit and everything. "He will be overseeing not only his team," Silber explains, "but several other teams."
While Pride tries to adapt to a desk job, his team copes with the emotional fallout of their leader going down and then moving up. Says Bakula, "Everyone bounces off what happened to Pride to examine who they are." Loretta Wade (CCH Pounder), for one, is "very concerned and plays a big part in sorting him out," he notes of the coroner, and forensic expert Sebastian Lund (Rob Kerkovich) "is trying to grow up. He shows up in a suit with house keys — and it backfires."
See Also
Pride has a new role at the NCIS Southeast Field Office, and he's not going to be tackling his new duties alone!
Patton Plame (Daryl "Chill" Mitchell), the team's computer pro, "stays positive." Hard-nosed Tammy Gregorio (Vanessa Ferlito) keeps the status quo, and fellow special agent Christopher Lasalle (Lucas Black), last seen heading to Alabama to sort out problems with his family's money, tangles with the IRS.
Of course, it takes a special person to fill in for Pride in the field office, and her name is Hannah Khoury. Played by Necar Zadegan (24, Girlfriends' Guide to Divorce), she speaks six languages and spent 15 years traveling to hot spots around the world. "She's charismatic and very likable," says Bakula — and naturally, she has a few personal skeletons in her closet.
Sets and the city
Perhaps the most vital character of all is one that has appeared in nearly every scene since 2014. New Orleans may not have the urban grit of New York City or the breezy beaches of Los Angeles, but its sights and sounds are unmistakable.
Royal Street's R Bar doubles as Pride's bar, TruTone. Season 4's two-part finale, which centered around Nola's Tricentennial Fleet Week, coincided with the real deal. And for the 100th episode alone, Team NCIS: New Orleans descended on the Orpheum Theater, a French Quarter rooftop and St. Ann Street, to name a few sites. (The centennial hour, airing October 23, also features Nathaniel Rateliff and the Night Sweats as musical guest, plus the return of Stacy Keach as Pride's ex-con dad and the introduction of a new recurring character from Pride's past.)
This is an abbreviated version of TV Guide Magazine's latest cover story. For more from our conversation with Bakula about NCIS: New Orleans and more, pick up the latest issue, on newsstands Thursday, September 27.
NCIS: New Orleans, Tuesdays, 10/9c, CBS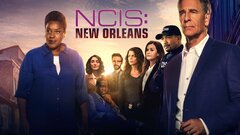 Powered by