Teriah Is Back! 'Young & the Restless' Stars Camryn Grimes & Cait Fairbanks on Reigniting Mariah & Tessa
Fans of Mariah (Camryn Grimes) and Tessa (Cait Fairbanks) are rejoicing now that the latter, after leaving Genoa City for a bit, is back on-screen at The Young and the Restless.
The couple's gone through a lot of ups and downs as Mariah's been questioning what — and who — she wants out of life. TV Insider chatted with the two actresses about their on-screen and off-screen dynamic, how they handle fan response to it, and what Fairbanks thought of Grimes' emotional speech when she won this year's Daytime Emmy for Outstanding Supporting Actress in a Drama Series.
Tessa's return has saved Mariah some serious money. She was contemplating hiring a private eye to locate her!
Camryn Grimes: In real-life! I want to know where you are at all times, but you won't share your location with me on your phone!
Cait Fairbanks: I'm always trying to protect her [so I won't tell her where I am]. She's my angel!
It looked like the show might have been backing away from your storyline when Tessa left town. How did you feel when it was picked up again?
Grimes: I think it was always the intention to go back to it. I know some people panicked for a bit. So much happened between Noah [played by Robert Adamson], Mariah, and Tessa that you couldn't just jump into a relationship after all of that went down and she stole the notebook. There had to be a build. I like that it was slow. I like that they found their way back to each other when it seemed like so much damage had been done because that's the true testament of the feelings [that] are there.
Fairbanks: [Camryn and I] were on the same page in that we knew it was always going to be a thing but we didn't 100 percent know. I think it had to [take time] because there was no way the relationship could just start after Noah. If you cheat on someone you can't just get with the person right away. There are always trust issues.
In a sizzle reel of Riverdale shown at Comic-Con, there were snippets of two same sex couples shown. Thousands of fans cheered and applauded. But, sometimes, same-sex couples on daytime don't get that response.
Grimes: Oh, I watch Riverdale. I love Riverdale. Please let Cheryl [Madelaine Petsch] get an older sister someday. Please.
How much do you guys read online about viewer response to Mariah and Tessa?
Fairbanks: I don't read that much anymore. Most of the comments I see are pretty positive. Every so often we'll get something [negative]. I try to call them out. Either way I feel that people know not to mess with us about it. I want to always clap back, but I don't want to give that person attention. They have zero followers and [if I respond] they'll get thousands of views. I'd rather have them shrivel.
Grimes: I echo the same thing Cait said. Most of the comments are positive. There's this whole community now on Twitter that's crazy [in a good way].
Fairbanks: They are the best.
Grimes: They're the best. Honestly, they do a lot of the clap backs for us so we don't have to. Every now and then [I'll respond]. I've gotten over clapping back to everything because I realize it's just not the important conversation. The important conversation is something we're already doing. We're continuing this story. It's happening and those people who don't agree, I'm sorry, but they're just going to kind of go away eventually. It's an old mentality that I think will die out.
What does Mariah bring to Tessa's life and what does Tessa bring to Mariah's?
Grimes: Tessa's a whole enigma wrapped in a surprise. There's the obvious — her sexuality. She challenges Mariah in trust and in vulnerability and emotion. These are all new things for Mariah. I think this real kind of love, this vulnerable, high-emotion, intense love is pushing Mariah out of her comfort zone.
Tessa: What's interesting is that even though Tessa comes off closed-off, it's the same thing; Mariah is challenging Tessa's sense of vulnerability. Tessa is very protective and wants to take care of Mariah. She sees her as this big, shiny thing that she wants to just keep safe. Mariah brings this sweet energy [to Tessa's life] that she's never had. She's had bad stuff happen to her. I think she brings an innocence to her life that she's never really had before. It's an innocent love that's sweet and kind.
What did you think of Camryn's Emmy speech in April in which she dedicated her award to anyone who's "dared to dream and dared to love"?
Fairbanks: I was up, clapping the whole time. It was great. It's true. It's a tough business and this storyline aligns with us in different ways.

You remember a time when daytime told its stories more slowly. Do you think Y&R telling this story slowly has been beneficial?
Grimes: I do remember that. I like the pacing of this story. Given that this was uncharted territory on our show, pretty much, for the most part…you gotta take your time and do it right.
Fairbanks: I wouldn't have wanted it any other way. I think people were excited about it before it even happened.
Do you have a couple name?
Fairbanks: "Teriah." There was "Messa" and "Teriah."
Grimes: "Teriah" is the one that stuck.
Young and the Restless, weekdays, CBS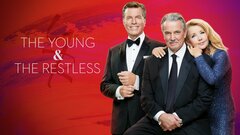 Powered by