Debbie Gibson Reveals How Real Life Inspired Her Character in Hallmark's 'Wedding of Dreams' (VIDEO)
Debbie Gibson is performing triple duty on her Hallmark movie, Wedding of Dreams.
She's the lead actor, executive producer, and contributed to the soundtrack with some original music. Plus, if she wasn't acting in it, she'd definitely be a consultant for the character because it's loosely based on her own life!
"It really becomes the story of a woman whose trying to figure out how to do what she's passionate about — do what she loves — while giving her full attention also to her relationship," Gibson said during an interview with Celebrity Page.
See Also
The Hallmark movie is the sequel to 'Summer of Dreams.'
Gibson, of course, rose to pop singer stardom with her 1987 hit song "Foolish Beat." She still holds the record for being the youngest female artist in history to write, produce and perform a No. 1 hit. She was only 17 at the time.
"The day that [that record] gets broken I'm literally going to find the girl who does it and I'm going to have a torch and pass it to her," she joked.
Check out the full interview below:
Wedding of Dreams, Movie Premiere, Saturday, September 8, 9/8c, Hallmark Channel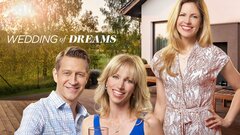 Powered by