'Bachelor in Paradise' Episode 6: Confrontation & Conversation (RECAP)
[SPOILER ALERT: This recap features spoilers from Season 5, Episode 6 of Bachelor in Paradise.]
With all the couplings, the love triangles, and Jordan's straight up jealousy in every situation, it's shaping up to be a seriously entertaining season of Bachelor in Paradise. And on Monday night, it all finally bubbled over.
This week there were new arrivals, and of course, even without a rose ceremony, a few departures. Plus, so much fighting, especially with the guys.
Here's what you missed on Bachelor in Paradise:
Connor Arrives
Connor makes a big first impression! #BachelorInParadise pic.twitter.com/civdSPzX8V

— Bachelor in Paradise (@BachParadise) August 28, 2018
Just as Krystal was settling into a relationship with Chris — and even asking him if he saw marriage in his future — Connor showed up.
And Krystal could not stop talking about how much he was her type (to Chris' obvious dismay). But Krystal wasn't the only lady making eyes at the newbie.
Everyone lost it over Connor, much like they have every time a new person has shown up. Regardless, Krystal had to stake her claim.
When Connor asked Krystal on a date, she obviously agreed, which made Chris royally pissed off. After which, he spent the entire time about the new couple.
Kiss & Make Up
Language, people! #BachelorInParadise pic.twitter.com/x62So685Qc

— Bachelor in Paradise (@BachParadise) August 28, 2018
There's been so much tension between Jenna and Jordan lately, but it seemed like they were finally going to make everything okay again.
Jordan came clean about how deeply he feels about her and how much he hates being jealous, and Jenna was impressed with his honesty.
This led to a lot of making out. Will ABC ever get that the viewers at home don't want to hear all those gross smooching noises on this show?
However, that didn't mean Jenna was done with Benoit, either. So, she decided she wasn't going to kiss anyone else 'til she figures out her feelings. Hmm… we'll see if that holds up.
Adios Kenny!
Once again, Kenny proved he's too good for the Bachelor universe by deciding to leave early because his daughter had a dance recital that he didn't want to miss. Major parental points for him.
Poor Annaliese was heartbroken and being that she hasn't really clicked with anyone else — this does not bode well for her.
Long live the King of dads. #BachelorInParadise pic.twitter.com/mK4VxTbfFu

— Bachelor in Paradise (@BachParadise) August 28, 2018
But isn't Kenny the cutest? Yes, he is. Kenny for Bachelor.
Kamil Arrives
Just in time too! Annaliese was in full meltdown mode about how she hasn't found anyone else, and low and behold Kamil (the 60/40 guy from Bachelorette) showed up and instantly changed her mood.
Could she pronounce his name? No. But did it matter? Also no, because he ended up asking her on a date, and it went really well. They drove ATVs and hung out near a waterfall, which was the perfect mix of fun and romantic.
Drama, Drama, Drama
Kevin and Astrid have been a low key couple and things have been going well… 'til now. Out of nowhere, Kevin told her he wished she'd date other people so she could know for sure that he was the right guy, which rightfully annoyed her.
"I don't know how to process something that makes no sense." #BachelorInParadise pic.twitter.com/XCsLNQM1JT

— Bachelor in Paradise (@BachParadise) August 28, 2018
Clearly, Kevin was letting his insecurities from his failed relationship with Ashley I. get to him, and if he's not careful, it's going to be what sabotages his relationship with Astrid.
In other news? Jenna finally made the call to cut Benoit loose and stick with Jordan. Finally, a decision!
A Confrontation
Exhausting all your options or just exhausting? #BachelorInParadise pic.twitter.com/CeOYawADZi

— Bachelor in Paradise (@BachParadise) August 28, 2018
Remember how Leo kissed Chelsea last week? Well, Kendall finally found out, and it's not good.
Leo acted like by telling Kendall they were "hanging out" she understood that meant they were kissing. His best reasoning? Tt didn't "feel romantic" to him. Makes. No. Sense.
Kevin ended up pulling Leo aside and admitting that he was the one who told Kendall about the kiss with Chelsea, and that went about as well as you'd imagine it would.
Later, Kendall and Leo ended up in a major argument about the whole thing, and then, like a true hero, Grocery Joe stepped in to save the day.
What happens next? BIP left us on a cliffhanger, so we'll have to wait til tomorrow night to find out.
Bachelor in Paradise, Monday & Tuesday, 8/7c, ABC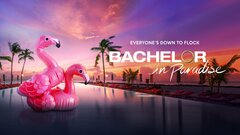 Powered by