Meet the Characters From Fox's New Comedy 'The Cool Kids'
There's a new (old) gang in town. The Cool Kids features a quartet of seasoned actors portraying feisty residents at senior living community Shady Meadows. "It's retirement village shenanigans!" says Vicki Lawrence, who plays "sassy troublemaker" Margaret. Meet the foursome who make the twilight years truly sparkle.
Charlie (Martin Mull)
"At a point in your life, memory and imagination become interchangeable. For Charlie, that memory fuzz was chemically induced," says Mull (Veep), who plays the former hippie with a penchant for telling long tales. "I'm probably more like Charlie than I'd care to admit. I went to art school in the '60s. I'm fortunate to be alive and clean."
Sid (Leslie Jordan)
The only things in Sid's closet are his loud, colorful clothes. "He's a gay guy who's comfortable in his own skin. With his straight friends, it's not an issue," explains Jordan (Will & Grace). "The character was originally written as a 73-year-old straight Jewish guy from Brooklyn. But I said in the audition, 'I'm gonna put a different spin on this.'"
Margaret (Vicki Lawrence)
In the premiere, Margaret makes waves when she busts up the boys' club and sits with pals Charlie, Sid, and Hank. "I treat them to a day of fun and they realize their group needs new energy," says Lawrence (The Carol Burnett Show). Before long, they're plotting to steal a TV from the rec room!
Hank (David Alan Grier)
Cranky Hank doesn't take kindly to Margaret pushing her way into the group. The resident alpha male thinks she is "destroying his kingdom," explains Grier (The Carmichael Show), the only cast member who wears old-age makeup. "But that's his generation. I know guys like this. They're set in their ways."
The Cool Kids, Series Premiere, Friday, September 28, 8:30/9:30c, Fox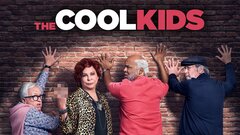 Powered by