'Supergirl' Replaces Brent Spiner With Bruce Boxleitner for Season 4 White House Role
Supergirl is taking on a new recruit for Season 4!
Bruce Boxleitner, known for his role in the time-defying TRON franchise, will appear in the recurring role of Vice President Baker. It's a role which was previously set to be filled by Star Trek alum Brent Spiner before the actor departed to attend to a family matter.
As a politically minded and "adept" person, Vice President Baker is an unlikely leader who is willing to step up for his country at a moments notice.
Similar to the previously cast Spiner, Boxleitner has a lenghty career in the sci-fi genre. He played the beloved Alan Bradley and titular Tron in the TRON series over the years spanning from the first film in 1982 to the 2012-2013 series TRON: Uprising. The Midwestern native has also graced the stage alongside Ted Danson and appeared in guest roles on shows like The Mary Tyler Moore Show.
Boxleitner got his big break in the CBS series Scarecrow and Mrs. King, in which he appeared alongside Kate Jackson. In 1994, he starred in the popular TV series Babylon 5 as John Sheridan. Some of his more recent work includes shows like NCIS and Cedar Cove.
See Also
Find out what Kara, Mon-El, and more of your favorite characters are up to on-set.
A fitting addition, no doubt, Boxleitner sounds like a welcome member of the Supergirl family already. Catch him when he appears in the CW series this fall as Vice President Baker.
Supergirl, Season 4 Premiere, Sunday, Oct. 14, 8/9c, The CW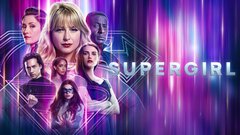 Powered by