'The Bachelorette' Episode 9: Becca's Heart is Thai'd in Knots (RECAP)
[SPOILER ALERT: This recap features spoilers from the Season 14, Episode 9 of The Bachelorette.]
It's hard to believe that we're already watching Becca Kufrin on her fantasy suite dates on The Bachelorette, but it's finally here.
She and her remaining three men — Blake, Garrett, and Jason — jetted to Chaing Mai, Thailand, and emotions were taken to the next level.
Over the next couple of weeks, Becca has a lot of tough decisions ahead of her, and they started early on in this episode.
Here's what you missed on The Bachelorette:
Date 1: Blake
Blake was up first and if you check Twitter, he seems to be the fan favorite right now.
He and Becca visited a temple where they couldn't kiss (which meant they obviously got a ton of kisses in right before they walked in).
During their time together, the couple discussed what's important to them in relationships and the conversation continued over dinner.
They talked about past relationships and how Becca is superstitious about something going wrong because everything has been so perfect with them so far.
And for the record, Blake accepted her invitation to forgo his individual room and join Becca in the fantasy suite (duh!).
Blake's morning after.#TheBachelorette pic.twitter.com/pI77EDtyJi

— The Bachelorette (@BacheloretteABC) July 24, 2018
Date 2: Jason
For their date, he and Becca visited a market, and even though the day looked like a lot of fun, Becca realized that she didn't have a future with Jason and went into full panic mode.
It started with a conversation about decorating their future house, and just spiraled from there.
Over dinner, they started talking about their feelings for each other and Becca had to walk away for a second to gather her thoughts.
When she came back, she just ripped off the bandaid: despite the fact that Jason is an awesome dude, she had to end things because her feelings for the other men were stronger.
This one is a soul crusher. 😢#TheBachelorette pic.twitter.com/owcbGDd1Vs

— The Bachelorette (@BacheloretteABC) July 24, 2018
Jason was blindsided — to say the least — and even tried to convince Becca to give him another shot. But she was adamant that this was the end.
Bye, Jason. We'll miss you… and your amazing Darren Criss doppelganger brother. (Unless he's back as the next Bachelor?!?!)
Date 3: Garrett
After her emotional roller-coaster of a night with Jason, Becca needed a relaxing date and that's exactly what she planned with Garrett.
They paddled down a river and had a blast, even though it was a little crowded towards the end.
At dinner, they talked about their relationship fears, which has been a common theme every time Garrett and Becca get private time to talk.
A kiss to build a dream on.#TheBachelorette pic.twitter.com/UmGXrPC1Mw

— The Bachelorette (@BacheloretteABC) July 24, 2018
He also dropped an L-bomb on her (which was expected) since he said he's been head-over-heels since day one.
Garrett also accepted a key to the fantasy suite and the couple spent the night together in an amazing treehouse.
Jason's Comeback
Why is it that every season, at least one contestant makes a surprise return?
This time it was Jason.
He showed up unexpectedly to Becca's hotel room, looking for closure, which we can't blame him for. Fortunately, they were able to talk things out.
Jason: The Return. #TheBachelorette pic.twitter.com/jWSGYq23BS

— The Bachelorette (@BacheloretteABC) July 24, 2018
Jason felt confident that he'd done everything he could to make his feelings known before he left, and he actually gave Becca a really sweet gift: a scrapbook of their "meaningful story." How sweet is that?
The Rose Ceremony
Garrett and Jason are the two last men standing so the ceremony wasn't very dramatic.
Next week the show takes a break and it's the Men Tell All special. And yes, male model Jordan is returning!
When Becca and her suitors return, they move on to the Maldives and meet Becca's family.
The Bachelorette, Mondays, 8/7c, ABC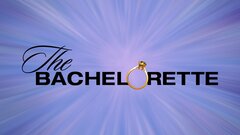 Powered by