Joss Whedon Rebooting 'Buffy the Vampire Slayer' With a Black Lead
Demons, leather, and fangs ohh my — Buffy Summers is making a comeback.
20th Century Fox Television is working with original Buffy the Vampire creator Jess Whedon on a reboot of the long-running supernatural drama series.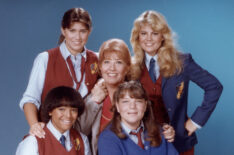 See Also
Plus, 'Muppet Babies,' 'Conan the Barbarian,' and more revivals keep on coming.
This time around, they're looking for a black lead actress to take over the title role that made Sarah Michelle Gellar a household name.
Monica Owusu-Breen (Midnight, Texas) is on board as writer and showrunner. She and Whedon have also worked on Marvel's Agents of SHIELD. Gail Berman, Joe Earley, Fran Kazui, and Kaz Kazui will also executive produce the reboot.
The potential series doesn't have a home yet but is being shopped around and we're sure the bidding war will be intense.
The original Buffy debuted in 1997 on The WB and became a pop culture phenomenon. The show ran for seven seasons including its last two seasons on UPN.
Powered by