Ted Williams on 'American Masters,' Shark Week Goes Into the Abyss, 'Bachelorette' All Thai'd Up
A critical checklist of notable Monday TV:
Ted Williams: The Greatest Hitter Who Ever Lived (9/8c, PBS, check local listings at pbs.org): The MLB All-Star Game was last week, but American Masters reaches back to salute an all-time all-star with this profile of a sports legend on his centennial. Jon Hamm narrates the biography of Ted Williams, the Boston Red Sox "Splendid Splinter" and Hall of Famer who batted .406 in 1941. Williams also distinguished himself with military service in World War II and the Korean War, each time returning to the ballpark, reinforcing his status as a true American hero.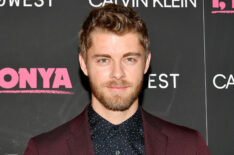 See Also
Plus, 'Whiskey Cavalier,' 'The Righteous Gemstones,' and more pilot news.
Great White Abyss (9/8c, Discovery): The highlight of Night 2 of Discovery's 30th anniversary Shark Week is a literal deep dive to the ocean floor off Guadalupe Island. Shark experts Jimi Partington and Brandon McMillan, with Dr. Mauricio Hoyos, seek megasharks in the watery depths, employing a deep-sea cage and a pressurized submarine. Calling James Cameron: This sounds like a movie waiting to happen.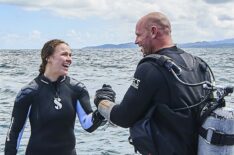 See Also
The Navy diver and shark attack survivor prepared Rousey for encounters with bull sharks, blue sharks & the mako.
The Bachelorette (8/7c, ABC): Into another abyss, the shallow pool of contrived dating series, as Becca takes her three remaining dupes — sorry, suitors — to the jungles of Thailand. She goes shopping in an outdoor market with Jason and has a river adventure with Garrett, but what should Blake read into the fact that she takes him hiking on the "Monk's Trail" where no kissing or touching is allowed? (That might actually be a first for this ridiculous series.)
See Also
Becca meets the families of her final four men.
Inside Monday TV: Fox's So You Think You Can Dance (8/7c) moves to the next stage, with the Top Ten women competing for spots in the finals. They're paired with an All-Star guy for a duet outside their preferred style. The Top Ten men get their shot next week… The top 30 ninjas head back to Dallas for the second round of the City Finals on NBC's American Ninja Warrior (8/7c)… PBS's POV anthology profiles a true athletic warrior in the documentary The War to Be Her (10/9c, check local listings at pbs.org), which follows the struggles of Maria Torrpakai, a world-ranked squash player from Pakistan, who had to hide her talents and even disguise herself as a boy from the Taliban, which opposes women in sports and issued death threats against her. This is paired with the documentary short Beatrice, about Beatrice Vio, an armless and medal-winning fencer.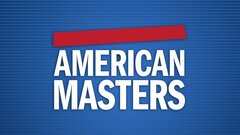 Powered by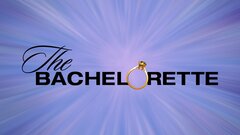 Powered by