First Look: Damon Wayans, Jr. Cop Outs on 'Brooklyn Nine-Nine' (PHOTO)
Damon Wayans, Jr. (Coach) might have benched himself from the New Girl loft, but he's finding new guest digs on Brooklyn Nine-Nine. In next week's episode, Wayans stops by the precinct as Jake's (Andy Samberg) former partner, Stevie, who's now with the Nine-Eight.
Once Jake and Stevie start their bromance again, Charles (Joe Lo Truglio) becomes jealous and tries to reassert his status as Jake's best bro. Meanwhile, the detectives and staff of the Nine-Nine try their best to welcome their neighboring precinct, but not surprisingly, things go very much awry.
RELATED: See Katey Sagal as Andy Samberg's Mom on Brooklyn Nine-Nine
Before the "9-8" episode airs, see exclusive photos of Wayans and Samberg striking a pose in uniform here.
Brooklyn Nine-Nine, Tuesday, Feb. 9, 9/8c, Fox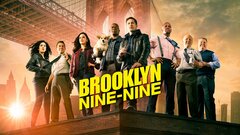 Powered by