Comic-Con 2018: Exclusive 'Doctor Who' Thirteenth Doctor Items Available
The BBC Shop at BBC America booth (#4129) is returning to 2018 San Diego Comic-Con with some exciting exclusive Doctor Who merchandise.
The items include a Thirteenth Doctor Superbitz plush (pictured above), a Bioworld TARDIS Puffy Keychain, as well as a selection of t-shirts, hoodies, and mugs designed exclusively for the convention, according to a press release.
A full list of merch is below:
Exclusive to Comic-Con:
– Kawaii T-Shirt, Hoodie, & Mug
– Alice Zhang T-Shirt
– Thirteenth Doctor Superbitz
– Thirteenth Doctor Funko POP!
– Thirteenth Doctor Titan Figurine (6 1⁄2")
– Thirteenth Doctor Kawaii Figurine (6 1⁄2")
– Thirteenth Doctor Hillside Mug
– Bioworld TARDIS Puffy Keychain
Shop Exclusives:
– Doctor Who Stars Earrings
– Doctor Who Insignia Earrings, Necklace, and Dog-tags
– Rainbow Paint TARDIS Raglan
– Kawaii Doctors T-Shirt
Plus, the BBC America booth will host three booth signings. The details are below:
Friday, July 20 11:30am-12:30pm and Sunday, July 22 from 11:30am- 12:30pm: Richard Dinnick, author of Doctor Who: Myths and Legends and contributing author of the Doctor Who: The Missy Chronicles anthology. Dinnick is a writer of TV scripts, books, and comics who has worked on Disney series Eena Meena Deeka and BBC's Go Jetters. He is currently writing for several of Titan's Doctor Who comics.
Saturday, July 21 2:00pm-3:00pm: Kelly Yates, the artist whose artwork inspired the exclusive Kawaii Collection. Yates is an illustrator best known for his work on Doctor Who comics for both Titan and IDW. In addition, he writes and illustrates the creator-owned books Amber Atoms and MonstHer.
The Doctor Who panel is set to take place on Thursday, July 19 at 11:45am PT in Hall H.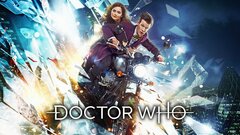 Powered by