Hasbro Awakens a Porg-tastic Comic-Con 2018 Exclusive From 'Star Wars Forces of Destiny'
Even though Han has left the building, Chewbacca isn't flying solo this summer at San Diego Comic-Con 2018.
Thanks to a Hasbro exclusive, the MTV Lifetime Achievement Award winner is being saluted with an exclusive collectible featuring Chewie's newest friends-slash-meals, the Porgs. We have no idea how they say "so kewt" on Kashyyk, but you know they are!
See Also
'Legion,' 'Wynonna Earp,' 'Buffy,' and more are also getting in on the fun.
Inspired by the Wookiee's screen time with the bug-eyed avians in The Last Jedi and Disney Channel's animated Star Wars Forces of Destiny, the $50 set includes an 11-inch detailed Chewbacca doll that is covered in hair we assume does not smell like "a walking carpet." (He also makes his patented howls when you press his chest).
In addition, you get a nesting pair of baby Porglets and two flocked adult Porgs with moveable… flippers? Wings? Drumsticks?
The entire thing is packaged in a cardboard rendition of the Millennium Falcon, but really, we can see this crew fitting in just as well at Barbie's dream house or even the Batcave.
Attendees at the San Diego convention center can try for the set by heading to Booth #3329. Limited quantities will also be available at select conventions and online retailers (including HasbroToyShop.com) after Comic-Con wraps up on Sunday, July 22.
May the shopping force be with you.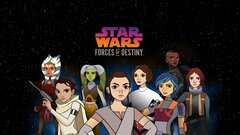 Powered by