New Series 'Pose' Is About Community Says Co-Creator and Executive Producer Steven Canals
The latest series from überproducer Ryan Murphy (American Horror Story, Glee) takes viewers back to Reagan-era Manhattan, where both the haves and the have-nots are trying to fake their way into the glamorous life.
Those two worlds collide when yuppie striver Stan Bose (Evan Peters) befriends sex worker Angel (Indya Moore). Angel is involved in the "ball scene," where black and Latinx queer and trans folk compete in elaborate dance-offs. There, drama swirls around the rivalry between veteran voguer Elektra (Dominique Jackson) and her former protégée, Blanca (MJ Rodriguez).
Meanwhile, Stan and his wife, Patty (Kate Mara), are obsessed with keeping up with Fifth Avenue's elite, personified by Stan's financial kingpin boss (James Van Der Beek). "Stan gets brought into the greed, power and lust we saw on Wall Street in the '80s," says co-creator and executive producer Steven Canals.
But it's not all gold-plated grit. Vibrant production numbers rival anything you'd see on Broadway. "There's glitz, glamour, music and a lot of movement," Canals says. Beneath the flashy facade, Pose is really about community. "We all want to be respected," Canals says. "We all want to find love."
Pose, Series Premiere, Sunday, June 3, 9/8c, FX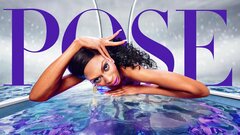 Pose
where to stream
Powered by