'Legends of Tomorrow's Super Couple on Sex Scenes, Bickering and Who is Best Prepared
As the original angry birds on DC's Legends of Tomorrow, Ciara Renee and Falk Hentschel aren't just winging it. Their Carter Hall and Kendra Saunders—better known as oft-reincarnated soulmates Hawkman and Hawkgirl—are rooted in deep DC Comics lore, dating all the way back to their 1940 debut in Flash Comics #1. So how does the pair compare to the colorful, combative characters they play? We sat down with Renee and Hentschel for a little he said-she said session and it turns out, these birds of a feather really do work well together.
As actors, how different are you from one another?
Ciara Renee: As actors?
Falk Hentschel: Oh.
Renee: [Laughs] Oh! Actually, I think we're similar in a lot of ways.
Hentschel: Yeah, we…
Renee: We have actually been on a very similar wavelength from the beginning. It's just been great. But I think that it helps us be able to differ on screen. [Laughs]
Who's the more prepared one?
Hentschel: I would say she is.
Renee: No, I don't prepare anything. I'm just really good at learning lines.
Hentschel: We're the same! [Laughs]
So you're just good at memorizing on the spot?
Renee: Really quickly, yes. I learn it all in the makeup trailer the day of.
Hentschel: I just don't learn them. [Laughs]
Renee: I fill him in on his lines.
Hentschel: I want to stay fresh, you know? By the time you've rehearsed it for the fifth time [on set], I feel like you know the lines.
You guys have had some steamy love scenes. Who was the most uncomfortable one while filming them?
Hentschel: [Laughs] I would say you.
Renee: Why me?! I mean, yeah, I was. [Laughs] That's really true. But it was my first time ever doing that.
Hentschel: Her first love scene!
Renee: So it was like, "WOAH!" Pasties! [Laughs]
Hentschel: I was, too.
Renee: Yeah, but you were like, "Woah, pasties…urrgghh."
Do those scenes ever get comfortable?
Hentschel: No.
Renee: Noooo! [Laughs]
Hentschel: I feel like they're never sexy.
Renee: I don't know how you can get into it.
Hentschel: I've done a couple. The last one I did in a movie, the director kept calling out, "All right and now be sexy, okay? Smoldering!" And like, while we're doing it, you know?
Renee: Like, don't talk to me while we're nude! Don't do that! [Laughs]
So what were your first impressions of each other?
Renee: The first time that we actually had a full discussion was via WhatsApp, like we were just talking to each other. And we started fighting about everything!
Hentschel: We WERE Carter and Kendra! We disagreed…I started some conversation and she disagreed.
Renee: We were talking about feminism…
On your first conversation?!
Renee: Yes! [Laughs]
Hentschel: We went deep. And I sort of was like, "Oh, this is going to be easy. This is cast perfectly!" And just to be fair, like, we didn't "fight" in the sense of the not liking each other.
Renee: No, no, no.
Hentschel: It was bickering.
Renee: Yeah!
Hentschel: And I think we're pretty good with accepting the other for their opinion…and having an opinion on it. [Laughs]
DC's Legends of Tomorrow airs Thursday at 8/7c on The CW.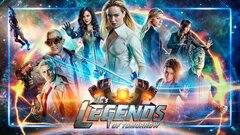 Powered by