'The Magicians' Stella Maeve Previews Julia's 'Intense' Witch Training
Presto, change uh-oh!
In the series premiere of Syfy's immensely entertaining adaptation of Lev Grossman's novel The Magicians, we met all sorts of enchanted types populating the fictional, fantastical Brakebills University. But one character—Stella Maeve's Julia—didn't make the cut for this hipster Hogwarts for grad students and she is not happy about it.
"Her world was shattered," explains Maeve, whose "super ambitious" alter ego was seen falling in with a cabal of unsanctioned magic practitioners known as hedge witches after being rejected from Brakebills. "Julia just wants to find another outlet to practice magic. This is a girl who is brilliant and for the first time in her life she's failed. So when this opportunity is presented to her, she jumps on it."
Leaping before looking into the true agenda of her shady new pals will begin to have major consequences in next week's episode, especially once she comes face-to-face with bestie Quentin (Jason Ralph) for the first time since he left her back in Brooklyn for life at Brakebills. "It's interesting because we have two different story lines," continues Maeve, happy to have some crossover between the show's primary, but distinctly separate, plots this early on. In Grossman's trilogy, she points out, "you don't actually get to Julia's storyline until Book 2, [The Magician King]."
Without spoiling what her character gets into in the bestselling novels, the Chicago P.D. vet hints that her feisty Ivy League-aspiring spitfire is in for a lot of on-screen crazy going forward. Which is slightly terrifying, seeing how she spent half the pilot trapped in a walk-in freezer with a re-animated corpse. "I can't give away too much, [but] I can say that the trajectory of her story, the arc throughout the season, is super intense, really powerful," she says with a laugh. "Our showrunner Sera Gamble was like, 'I am so sorry for what we had to put you through!'"
Someone might want to warn her that payback is a witch.
The Magicians airs Monday at 9/8c on Syfy.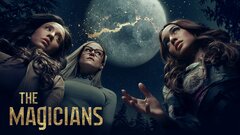 Powered by