'New Girl' Series Finale Sneak Peek: Is Jess & Nick's Wedding Cursed? (VIDEO)
After seven hilarious seasons, New Girl is coming to an end in the May 15 two-part series finale. And what better way to close it out than with Jess (Zooey Deschanel) and Nick's (Jake Johnson) long-awaited wedding?
But nothing ever goes smoothly with this wacky pair. And judging by an exclusive sneak peek at tonight's first episode, "The Curse of the Pirate Bride," even getting down the aisle in one piece is going to be a struggle.
In the clip, Cece (Hannah Simone) discovers the bride-to-be is high as a kite just hours before her nuptials, thanks to some, ahem, treats from her mom (Jamie Lee Curtis). Making matters worse, Russell (Dermot Mulroney) seems to be in crisis and Aly (Nasim Pedrad) might be going into labor. Is this wedding really cursed?
Check out the full clip below:
Also in tonight's second episode, "Engram Pattersky," Nick and Jess find out they're evicted from the loft, spurring the group to take a trip down memory lane — and partake in a game of "True American," of course!
New Girl, Series Finale, Tuesday, May 15, 9/8c, Fox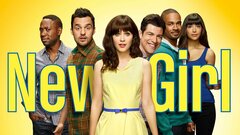 Powered by