'Brooklyn Nine-Nine's Pontiac Bandit Returns and Is Cruising for Trouble (VIDEO)
Brooklyn Nine-Nine sets sail for uncharted waters in tonight's brand new episode (airing at 9/8c on Fox).
When Jake (Andy Samberg) and Amy (Melissa Fumero) go on their first real vacation together as a dating couple, the detectives' romantic cruise hits the rough seas after they discover their old foe the Pontiac Bandit (guest star Craig Robinson) is also on board with them.
RELATED: Best Lines on TV This Week (From Brooklyn Nine-Nine)
Fearing for his life, the car thief hits up the duo for protection, but Jake is more intent on arresting his adversary before realizing he has no jurisdiction on international waters.
Check out the exclusive clip here: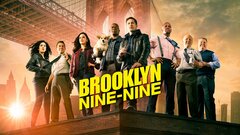 Powered by