'General Hospital': First Look at Lucy Coe & a Friend at the Nurses' Ball (PHOTO)
It's that time of year again — and we're not talking about spring or network prime time upfronts (where many of your favorite shows are disappearing). Those things are both happening but so is the annual General Hospital Nurses' Ball.
Started in 1994 by Lucy Coe (Lynn Herring), the glamorous charity event was organized to raise money for HIV and AIDS research. After taking some time off in the 2000s due to funding, the annual event (for the people of Port Charles and GH viewers alike) came back in 2013 and it's back again this year, as well.
See Also
Louise Sorel's character was seemingly killed in a gun struggle in Thursday's episode.
This time around, the Ball is sponsored by Olay and airs this Wednesday, May 16, through Monday, May 21. Expect singing, dancing and, as always, a healthy dose of drama.
Coe, of course, is back to take charge of the event. She's been barking — or, rather, asking kindly for favors and donations from many of the Port Charles affluent community over the last few weeks on the show. This year, however, she seems to have a not-so-little helper — a llama named Dutch, as you can see in the exclusive photo below from this week's episode.
General Hospital, weekdays (check local listings), ABC.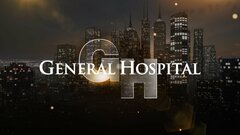 Powered by