What's Next for Callie (and Brandon) When 'The Fosters' Returns
For two and a half seasons The Fosters focused on whether or not Callie Jacobs (Maia Mitchell) would be adopted into the foster family she'd come to love as her own. That storyline was finally resolved in the show's midseason finale when a judge approved her adoption request, making her an official member of the Adams Foster family.
"We got Callie adopted, which gave us both a challenge and an opportunity of 'What's next?'" says executive producer Peter Paige of the show's new focus when it returns Monday night. "What's next for this family? What's next for her? How do we want to push the series forward when we've taken the question of will she or won't she get adopted off the table."
Inspiration for the next step in Callie's journey came from the stories of the foster and adopted kids that the producers have encountered since the show has been on the air, says Paige. "Something we've found is, almost universally they want to go into social work or the law. They want to change the system and make it better for the kids behind them. It's almost ubiquitous. They're all connected to that dream in some sort of way, and that felt really true to Callie."
But Callie isn't the only Adams Foster kid with a lot of big changes in their life. The midseason finale saw Jesus (Noah Centineo) return home under mysterious circumstances, as well as the youngest family member, Jude (Hayden Byerly), dealing with his best friend and first boyfriend moving to another city. With so much in store for the rest of the family, we asked Paige to break down what we can expect for each of the Adams Fosters in the next 10 episodes.
Callie will become a spokesperson for the foster community and find a mentor.
"Callie's an intensely private person, so on a personal level [becoming a voice for foster kids is] a challenge for her. But she's also not going to stand for it any longer. She's finally safe. Jude is
safe," says Paige, of Callie's sense of responsibility and her desire to help through her website, 'Fost and Found.' "She has a platform from which she can really try to make something happen." That change might come sooner than later as Callie will soon find an interested investor (played by Lie to Me's Kelli Williams). "She sees Callie and says, 'What you're trying to do is important, I'm going to support you. I've got the money and resources to put behind you and connections.' Then we slowly learn that everyone has their own agendas."
On a more personal front, Callie and Brandon's relationship will be understandably awkward now. "It's a complicated thing. They're dealing with the fact that they were deeply in love and they had sex," says Paige of the pair's relationship going forward. "That's the truth of the circumstances that they're living in, and we just try to honor that as best we can." Of course this leads to some complications. "They're dealing with a lot of heavy stuff and they both need people to talk to and that perhaps creates some challenges," teases Paige.
RELATED: (Video) Maia Mitchell Joins The Lion Guard as a Hyena
Brandon (David Lambert) will be throwing himself into his music.
As Brandon and Callie enter senior year, both of them will be focusing on their senior thesis. "At Anchor Beach you have to have a thesis," explains Paige. "Brandon's creating a new musical that he and Mat (Jordan Rodrigues) wrote together; it's really cool and sets the stage for one of the biggest episodes of The Fosters we've ever done." This should provide a helpful distraction for the teen, who Paige says will be "trying to move on from Callie and trying to get ready for the next stage of his life."
Mariana (Cierra Ramirez) will be working on her own college resumé.
"Mariana is on a bit of a tear," says Paige of the younger Adams Foster daughter. "She's in that junior year panic of 'This is the year that gets you into college.' She's trying to fill her resume with every possible extracurricular and superlative she can possibly achieve so that she can get into an Ivy League school and make a name for herself. Mariana is stressed out more than anything else." Not making things any easier will be the fact that her ex, Mat, is working with Brandon on his musical. "They're in proximity to each other a lot and it creates all kinds of problems," says Paige. As for whether the former lovebirds could reunite, Paige thinks they're still in love. "They're just too hurt to figure it all out right now, but you never know with a little time."
Jesus will take time to trace his roots.
"Jesus can't go back to school and we find out what's at the root of all that," says Paige, who shared what's in store for the returning twin. "It's about getting him reintegrated into life in San Diego and at Anchor Beach." Paige also says that Jesus' big story this season will be finding his birth dad, which naturally, has his sister, Mariana, feeling apprehensive. "When they find out this guy's story and history, she gets very worried. It's a big deal, and very different than any story we've done, any birth parent story we've done."
"Jonnor" are going to try and make things work… long distance.
"Yeah, Connor's [Gavin MacIntosh] moving away," confirms Paige. But there's some hope for "Jonnor" fans yet."They haven't said they're breaking up. They're going to try to make things work." Nonetheless, Jude will be having a hard time with the situation, says Paige. "He's trying to find what it means to be in a long distance relationship. And Connor wasn't only his boyfriend, he was really his only friend. He's got a big void to fill. Early on in the season he makes a new friend who becomes an important player in the whole season."
The Fosters midseason premiere airs Monday, Jan. 25 at 8/7c on Freeform.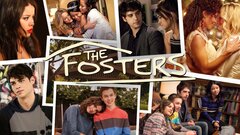 Powered by