Magician David Kwong Reveals 'Deception' Secrets From the Set
A magician never reveals his secrets — unless he coproduces Deception, a drama about an illusionist who aids the FBI.
Even then, David Kwong says, "There are rules." No. 1: Avoid tricks in use today. "We don't want to ruin anyone's show," he notes. In the show's April 22 episode, Cameron (Jack Cutmore-Scott) tackles a Fashion Week robbery with century-old black art—a way to hide things in plain sight.
The Harvard grad, 37, also consults for NBC's Blindspot and constructs New York Times crosswords. Let's just say we're pretty amazed.
When did you first start to learn about magic?
David Kwong: I was self-taught. I was a kid who saw a magician performing at a pumpkin patch when I was 7-years-old and I started reading books voraciously, practicing sleight of hand through my teenage years; then I unexpectedly turned it into a career.
How is your expertise incorporated into the creation of Deception?
It starts in the writers room. [Deception Creator] Chris Fedak and I are basically holed up in his office constantly. Sometimes we shape the story around the science of illusion, and other times we're retrofitting the magic. The writers will be focusing on the emotional arcs of the characters and the direction the episode needs to go in, so they'll ask me, 'How do we fit a magic trick into this story arc?'
I'm with the writers everyday in Los Angeles and then I'll do what I can on set, but we also have a very talented illusion builder Francis Menotti who oversees the day-to-day in New York. It's been a really wonderful, collaborative effort.
Between body swaps and mirror tricks, what's been toughest to pull off?
As opposed to sleight of hand or rigging Jack up with wires or magnets, the big illusions require building. For the angled mirrors ["Escapology," Episode 3], Francis and I created blueprints for how we would lay them out and models of the art gallery, then constructed it all for real. It actually works.
We also did the black art for real. Black art is a concept where the viewers eye cannot detect black on black. If you put black on black and then you shine lights out towards the audience, it becomes indistinguishable. Black art was a delicate episode for us when it comes to the secrets of magic. We decided that that principle was old enough that we could show it onscreen. That the secret was out there, it's on the Internet, it's all over YouTube, we made a very cognizant choice for black art to reveal it in the way that it was done 80 years ago, and not in the way that it's used today, because it's still used today by magicians in more clever, subtle ways. The methods that we reveal in that episode are the more time-tested, century-old methods.
Check out this sample of black art below.
Is there a trick that you haven't been able to fit into an episode yet that you're dying to see Jack try out?
Oh, there's so many. It's a very long list. I'd love to get Jack doing a faro shuffle. And if he really practices, which I know he will, the faro shuffle would be incredible. I think he's going to do it. You heard it here first.
He's really great, honestly.
He's like my 14-year-old self walking around with a pack of cards, practicing and annoying everyone else like, 'Hey, can I show you this? Can I show you this?' I think his girlfriend is really annoyed at him. [laughs]
The opening sequence in the pilot where Cameron Black is performing a sleight-of-hand routine in one shot, Jack practiced that for real and got it for real. We thought it was going to take all day and we got it in something like seven takes.
What's something about magic or magicians/illusionists that people don't know–something that would surprise the average fan?
We stand on the shoulders of giants. The magic tricks you see today are all based on principles from a hundred years ago. We are giving them a fresh coat of paint and presenting them in a new, modern way. For example, in Episode 2, the body switch with the hospital gurney was something inspired by the De Kolta chair. He was a turn-of-the-century magician, one of the first big creators of tricks that magicians are still performing today. We based it on that, but we came up with our own original way to do it.
Who inspires you?
I very much respect Penn and Teller. They've never pretended to have superpowers. They've always enforced that magic is sleight of hand, misdirection and understanding the psychology of your audience. It's something they've spent decades perfecting and are still perfecting. I have the same approach to magic. And I think that's something we try to show with Deception as well. That magic is something that can be learned.
Deception, 10/9c, ABC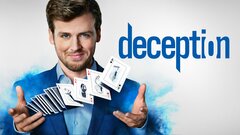 Powered by