SXSW Documentary Hit 'Operation Odessa' to Debut on Showtime (VIDEO)
Not long after premiering to rave reviews at SXSW, the documentary Operation Odessa—with its off-the-wall, truth-is-stranger-than-fiction story—will make its debut on Showtime this Saturday, March 31.
From the director and producers of The Seven Five, Operation Odessa is a true-crime documentary about a Russian mobster, a Miami playboy and a Cuban spy—"Tarzan," Juan and "Tony"—who sold a Soviet submarine to a Colombian drug cartel for $35 million.
An early '90s gangster epic that hopscotches from Brooklyn to Miami and Cali to Moscow, the film tells the true story of the three friends, who set out to hustle the Russian mob, the Cali cartel and the DEA for the score of a lifetime. What really happened to the sub, the money and the three amigos has remained a shadowy underworld myth until now.
In this exclusive clip from the film, "Tarzan" meets with an undercover agent and gets nabbed by a hidden device as he gives up the info they are planning to buy a Russian submarine for the Cali cartel:
Operation Odessa, Saturday, March 31, 9/8c, Showtime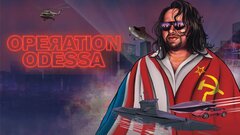 Powered by