TCA: Showtime Boss on the Future of 'Twin Peaks,' 'The Affair'
Twin Peaks may be gone (for now), but it's not forgotten.
After the Showtime executive panel at TCA—where it was reiterated that the door was open for another revival of the iconic series—DavidNevins, President and CEO of Showtime Networks Inc., told reporters that he knew better than to try and push David Lynch about any potential ideas. "He's not a guy who is going to be swayed by salesmanship," allows Nevins.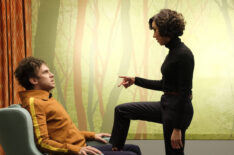 See Also
'Fargo' and 'Legion' creator Noah Hawley pays homage to 'Twin Peaks' mastermind David Lynch
Until the show returns, Nevins acknowledges there is a desire to keep the franchise in the public eye. (Such as the current pop-up in Los Angeles.) "There's enormous promotional interest; there's enormous consumer product interest," he says. "And with those, "we do talk to David about [what's going on], because I want him to have control."
The future is a little bit clearer for the ambitious drama The Affair, which partially shifts its location to Los Angeles in the upcoming season. "My expectation is it'll be a five season show, so there will be one more season after this," Nevins says. "That's the likely scenario. I think they're doing interesting things this year."
And though Dexter has been off the air since 2013, the potential for a revival is still being discussed—though Nevins warned that the talks were "we're no further along" than they were last year.