What's Worth Watching: Comedians Whitney Cummings and Chelsea Handler, the Eagles, Selena Gomez and more for Friday and Saturday
Whitney Cummings: I'm Your Girlfriend (Saturday, 10/9c, HBO): Don't hold NBC's ill-fated Whitney sitcom against Whitney Cummings, who's in her element doing provocative stand-up on the dynamics between the sexes.
Chelsea Does (Netflix, available Saturday): Step aside, Sean Penn. The ever-irreverent Chelsea Handler, in anticipation of a new talk show on Netflix sometime in the future, takes on the documentary format in a four-part series exploring hot-button subjects of racism, drugs, marriage and the Silicon Valley tech revolution.
Mad Dogs (Amazon, available Friday): Another binge alert: Based on a British series (hence the title, evoking the Noel Coward classic, or possibly the Joe Cocker album it inspired), this picturesque caper stars Steve Zahn, Michael Imperioli, Ben Chaplin and Romany Malco as long-time buds who reunite in exotic Belize—filmed in lush Puerto Rico—at the estate of a wealthy friend (Billy Zane) whose criminal entanglements soon ensnare the group in a never-ending nightmare of violent, darkly comic shenanigans. Starts off strong, but soon grows tiresome. Maybe binge-watching isn't the best way to approach this one.
Drunk, Stoned, Brilliant, Dead: The Story of the National Lampoon (Friday, 9/8c, History): Setting the tone for breakthroughs to come like Saturday Night Live, this outrageous humor magazine pushed the boundaries of taste from 1970 through the late 1990s. (I remember hiding early issues from my mom while passing them around in high school.) National Lampoon's glory days are recalled by the likes of Judd Apatow, The Simpsons' Al Jean, P.J. O'Rourke, John Landis and comic actors including Chevy Chase, John Goodman and Christopher Guest.
Inside Weekend TV: In honor of Glenn Frey, who passed away this week at 67, Showtime repeats the acclaimed music documentary History of the Eagles (Saturday, 8/7c). … Possibly the most random example yet of Game of Thrones-Vikings medieval madness is Esquire Network's acquisition of a British series version of Beowulf (Saturday, 10/9c). … Those seeking period adventure are probably better off sampling the third-season premiere of Starz's pirate epic Black Sails (Saturday, 9/8c). … UFC fighter and Olympian Ronda Rousey is the good sport making her guest-host debut on NBC's Saturday Night Live (Saturday, 11:30/10:30c), with Selena Gomez also making her first appearance as musical guest.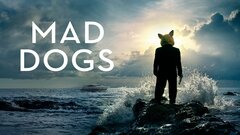 Powered by