'M*A*S*H' Star David Ogden Stiers Dead at 75
Actor David Ogden Stiers, best remembered for his Emmy-nominated role as Major Charles Emerson Winchester III in the classic TV series M*A*S*H, died Saturday at the age of 75.
Stiers' agent, Mitchell K. Stubbs, reported the actor's passing on Twitter: "I am very sad to report that David died this morning March 3, 2018 peacefully at his home in Newport, Oregon after a courageous battle with bladder cancer. His talent was only surpassed by his heart."
Stiers joined M*A*S*H in its sixth season starting in 1977, replacing Larry Linville's Frank Burns as foil to Hawkeye (Alan Alda) and B.J. (Mike Farrell).
But Winchester proved a much more even match, in terms of wit and surgical prowess, for his "Swamp"-mates. This came from how the Winchester character was written, but also largely from Stiers' performance as the upper-crust, well-spoken, erudite Bostonian, a performance that earned him two Emmy nominations. Stiers continued in the role until M*A*S*H ended in 1983.
Following M*A*S*H, Stiers continued with movie and TV roles. Among his big-screen work, he may be most noted among '80s fans for his role as John Cusack's father in the cult-classic 1985 comedy Better Off Dead …
Among his TV guest roles in the post-M*A*S*H years, Stiers is fondly remembered for his appearance in the moving "Fathers and Sons" 2003 episode of Frasier.
With his roles as Cogsworth and the Narrator in the 1991 Disney animated classic Beauty and the Beast, Stiers became famous as a voice actor, too. He went on to lend his voice to other Disney features, like Pocahontas (1995) and The Hunchback of Notre Dame (1996), as well as to a number of animated TV productions, including the 2000-02 Disney series Teacher's Pet.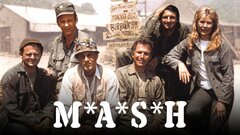 M*A*S*H
where to stream
Powered by