'Frankenstein Chronicles' on Netflix, a Freedom Summer Reunion on 'We'll Meet Again,' 'Detour' Gets Fishy
A selective critical checklist of notable Tuesday TV:
The Frankenstein Chronicles (Netflix): This grisly period-piece British import, starring Game of Thrones' Sean Bean, was originally set to premiere on A&E before that channel abandoned all scripted programming. Both six-episode seasons are now available for binge-watching, and this re-imagining of the classic horror legend gets underway in 1800s London when Inspector John Marlott (Bean) discovers a corpse comprised of the body parts from eight missing children. Anna Maxwell Martin (The Bletchley Circle) plays original Frankenstein author Mary Shelley, with Tom Ward as then-Home Secretary Robert Peel (a real-life figure who as future Prime Minister plays a major role in the current season of PBS's Victoria).
We'll Meet Again (8/7c, PBS, check local listings at pbs.org): Ann Curry's poignant docu-series revisits the civil-rights era with stories involving people who met each other during the Freedom Summer of 1964, when volunteers headed South at great risk to register African-Americans to vote. Curry interviews Fatima, who was a teenager from New York when she signed up to register voters in Louisiana. She's now hoping to reconnect with Thelma, the daughter of her host family who inspired Fatima with their courage against the violent racism of the era.
The Detour (10:30/9:30c, TBS): In one of the more extreme detours yet for this wacky family on the lam, doofus dad Nate (Jason Jones) goes all Deadliest Catch by signing up for a seven-month stint on an Alaskan fishing trawler. The rotting fish and meth fumes are one thing, but what can he expect to find upon his return?
See Also
Plus, which show the actor used to 'hate-watch.'
Inside Tuesday TV: Weather permitting, the highlight of NBC's Winter Olympics prime-time showcase (8/7c) promises to be skiing legend Lindsey Vonn's attempt to repeat her 2010 gold-medal win in Women's Downhill at age 33. … Correspondent Martin Smith explores the historic context of Middle East conflict in the two-part Frontline report Bitter Rivals: Iran and Saudi Arabia (9/8c, check local listings at pbs.org), with a two-hour opener tracking the rivalry between the two nations from the 1979 Iranian revolution to today's uprisings in Syria, Iraq and Yemen. … Cult-TV alert: Bret Harrison and Tyler Labine from The CW's short-lived Reaper reprise their roles on a new episode of ABC's Kevin (Probably) Saves the World (10/9c), one of the few original episodes of any network series airing during the Olympics.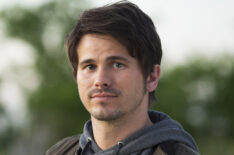 See Also
The actor also reveals which of his 'Parenthood' co-stars he wants on the show.