Ann Curry Returns to TV in Docuseries 'We'll Meet Again'
Ann Curry owes us a fresh box of Kleenex. On her moving, six-part docu-series We'll Meet Again, the former Today anchor reunites people with individuals who played a transformative role in their lives. And we're not talking old high school sweethearts rekindling a romance: These particular subjects' shared experiences were brought on by some of the most trying events in history, including 9/11, the Vietnam War and the 1980 eruption of Mount St. Helens. When these folks are brought together again—and finally get a chance to embrace, reminisce or simply say thank you—there's not a dry eye in the house. Curry shares her take.
What drew you to this?
I've spent much of my career covering wars and disasters in real time—putting a microphone in people's faces soon after what may have been the worst moment of their lives. With this, they have had time to process what they've gone through, and we're able to go deeper. It's history through the eyes of those who experienced it.
Which stories hit you the hardest?
It's so tough to pick. The man searching for the family that had made him feel cared for when he was a child in the Jewish ghetto in Shanghai during World War II. The woman looking for the pilot who rescued her from Mount St. Helens, turning his helicopter around to fly toward the volcano. These reunions are so powerful.
As the show's reporter and executive producer, were you able to stay professionally detached?
There wasn't a story that I wasn't deeply touched by. I remember one that we filmed—I had my headset on, watching and listening from a distance with tears running down my face. The producers around me were crying. Then I looked over and saw that the cameraman was sobbing! You could have wrung us out. It was such a beautiful moment.
We'll Meet Again, Series Premiere, Tuesday, Jan. 23, 8/7c, PBS or stream full-length episodes live during the airing on Facebook Watch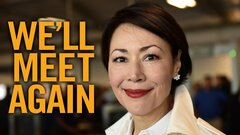 Powered by