'The Walking Dead' Season 8 Will Feature Its First 'Fully Nude' Walker
If there's one show that knows how to up the shock factor it's AMC's The Walking Dead.
The series following Rick Grimes (Andrew Lincoln) and crew has continued to draw viewers who are just dying to see what happens next. Guts, gore, and sex are among the graphic elements of the series, but fans haven't really seen it all—until Season 8.
Entertainment Weekly spoke with executive producer Greg Nicotero about what's next for the show, and he surprised everyone by revealing that a nude walker will be featured in the coming episodes."There's an episode where we did our first fully nude walker. We've never done that before," the producer detailed.
Well, there you have it—confirmation that there will be a "fully nude" walker to look forward to. Why anyone would look forward to seeing a nude walker is beyond us, but small glimpses into the second half of Season 8 is better than nothing.
Since the midseason finale left off with Carl's (Chandler Riggs) dire situation, fans have been tortured waiting for the show's return. Thankfully, the wait won't be much longer, as The Walking Dead returns Sunday, February 25.
Of course, the show is still on AMC, and although they've pushed the limits in the past, it's unlikely the nude walker will get much screen time. The producer didn't share the gender of the walker, but that is sure to have some impact on where the episode goes.
The Walking Dead, Returns, Sunday, Feb. 25, 9/8c, AMC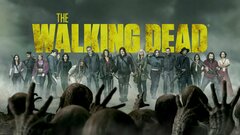 Powered by