Winter Olympics 2018: 5 Buzzed-About Moments From the Opening Ceremony
The 2018 Winter Olympics opening ceremony marked the start of a weeks-long sporting extravaganza in PyeongChang, South Korea. The host city is always looking to outdo previous winter and summer game openers, so there was plenty to see and talk about.
For those who either forgot the opening ceremony was airing—and we don't understand how—you've come to the right spot, because we're highlighting the top moments from the big night.
From the symbolic to downright peculiar, here are the most buzzed-about moments from this year's Winter Olympics opening ceremony.
See Also
The 22-year-old is one to watch this year.
The Tongan Flag Bearer

Sure, he's not American, but the representative for Tonga showed that he's more like Elsa from Disney's Frozen—the cold doesn't bother him anyway—in the below-zero temperatures.
When North and South Korea United
The separate nations entered the arena with one flag, despite tensions between them, and was a symbolic moment of unity.
See Also
They're blazing a trail for minority and LGBT athletes.
Team USA's Stylish Entrance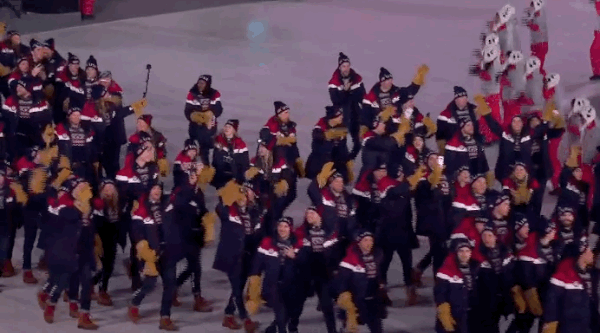 Decked head-to-toe in Ralph Lauren's designs, the team was nice and cozy in their state of the art heated jackets.
An Enchanting Fireworks Display
Brilliant colors filled the South Korean sky as the firework display aimed to outdo any that came before it.
See Also
From mixed doubles curling to big air snowboarding, things are getting interesting in PyeongChang.
The Gangnam Style Soundtrack
You may remember that catchy song way from back in 2012. Psy's viral hit served as the bright entrance soundtrack for several countries.
Winter Olympics, airs Feb. 9 – Feb. 25, NBC