Phil Keoghan Takes Us Behind the Scenes of 'The Amazing Race' Season 30
What a trip! CBS's reality competition The Amazing Race has been crisscrossing the globe for 30 seasons. And its current installment could be the most intense yet: All of the teams vying for $1 million are comprised of folks who've risen to the top of their respective fields, from former NBA pros Cedric Ceballos and Shawn Marion to Yale debating champs Henry Zhang and Evan Lynyak. In honor of the anniversary, host Phil Keoghan (above, addressing the group) reveals behind-the-scenes intel on the wild ride ahead.
PERENNIAL WINNERS MAKE FOR SORE LOSERS "Usually, we put so-called ordinary people in extraordinary situations," Keoghan says. "But this season, we're going to see what happens when they're elite, highly skilled people from many walks of life." The answer? Well, not all of those skills will be transferable—much to the contestants' dismay. Says Keoghan, "They're not used to floundering or being out of their wheelhouse, so it's humbling…and kind of funny to watch!"
See Also
From the house to the starting line!
THE CHALLENGES ARE CUSTOMIZED Given the teams' wide array of expertise, the powers that be had to work extra hard to come up with Roadblocks, Detours and such that wouldn't offer unfair advantages or handicaps. "We go to incredible lengths to make sure it's balanced," Keoghan notes. "We can't expect our basketball guys to float down a river in a tiny wicker basket—they'd sink!"
IT'S THE JOURNEY…AND THE DESTINATION(S) Never content to rest on its laurels (or 15 Emmy wins), the show's crew came into this year creative guns blazing. "We're always looking to keep it fresh with different graphics or ways to get into the challenges," Keoghan says. Fittingly, they'll be covering new ground in the literal sense as well. Says Keoghan, "We'll be sharing Bahrain with the audience, because who's been to Bahrain? If it's a struggle to point out on the map, then that's a good place to go!"
The Amazing Race Season 30 premieres Wednesday, Jan. 3, 8/7c, CBS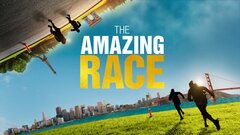 Powered by