'Young Sheldon': Will a Road Trip Help Sheldon and His Father Bond? (VIDEO)
If there's one thing you can say about Young Sheldon patriarch George Cooper (Lance Barber), it's that he may grumble a lot about life in general, but he truly wants what's best for his family.
In this Thursday's new episode, titled "Cape Canaveral, Schrödinger's Cat, and Cyndi Lauper's Hair," George's wife Mary (Zoey Perry) wants George and Sheldon (Iain Armitage) to be closer, since it's always been a challenge for father and son to connect, especially with the precocious 9-year-old  being a genius enrolled in high school. That's where an all-men road trip to Cape Canaveral to see a space shuttle launch comes into play with George, Sheldon and George Jr. (Montana Jordan).
In this exclusive clip from this week's episode of the CBS freshman hit, George Sr. has to act fast to satisfy Mary's wish to have Sheldon sit up front with him so the bonding can happen. Watch what happens:
Young Sheldon, Thursdays, 8:30/7:30c, CBS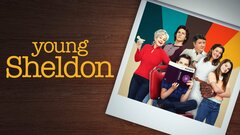 Powered by