WATCH: The Force Is With Kevin Smith in an All-New 'Speechless'
Like the special episode featuring a family trip to Disney World (filmed on location, natch), the special episode tying into whatever huge blockbuster film Disney is about to release is a hallmark of ABC sitcoms. Hey, The Mouse is nothing if not synergistic!
Wednesday night's all-new episode of Speechless, ""S-T–STAR W–WARS W–ARS," finds JJ (Micah Fowler) and Ray (Mason Cook) in possession of two tickets to the premiere of Star Wars: The Last Jedi. Sounds like a solid night of brotherly nerd-vana, right?
Except, no, because JJ is a total nerf herder and ditches his little broseph for a cute girl.
But wait…we are sensing a presence we haven't felt since…2004, maybe? It's Kevin Smith, and he's here to Jedi Mind Trick Ray into the premiere. Check it out in the exclusive clip below.
Speechless, Wednesdays, 8:30/7:30c, ABC. The "S-T–STAR W–WARS W–ARS" episode airs Dec. 6.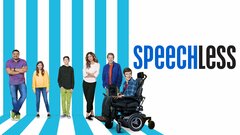 Powered by