Sabrina the Teenage Witch Is Heading to Netflix With 20-Episode Order
Riverdale fans have another series to look forward to. The Sabrina the Teenage Witch comics have found a new home at Netflix.
The streaming service announced on Friday that it picked a up two season, 20-episode order based on the characters from the Archie Comics graphic novel, The Chilling Adventures of Sabrina.
"UNTITLED SABRINA SERIES imagines the origin and adventures of Sabrina the Teenage Witch as a dark coming-of-age story that traffics in horror, the occult and, of course, witchcraft," Netflix revealed in a press release. "Tonally in the vein of Rosemary's Baby and The Exorcist, this adaptation finds Sabrina wrestling to reconcile her dual nature—half-witch, half-mortal—while standing against the evil forces that threaten her, her family and the daylight world humans inhabit."
Sabrina is coming to Netflix and she might just out-brood Jughead. Don't @ me about talking cats (yet)

— Netflix US (@netflix) December 1, 2017
Originally, a series was in development at The CW. Lee Toland Krieger joins the team to direct and executive produce along with Roberto Aguirre-Sacasa, who will also write.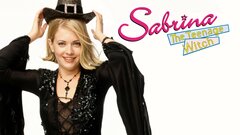 Powered by