Nat Geo Special Reveals 'The Secrets of Christ's Tomb' as the Sacred Site Is Opened (VIDEO)
As the holiday season approaches, National Geographic announced the upcoming premiere of a new special offering exclusive access to the tomb of Jesus Christ in Jerusalem as scientists race to repair the Edicule—informally called the "little house" enclosing the tomb. The Secrets of Christ's Tomb: Explorer premieres as a one-hour special Sunday, Dec 3, at 9/8c, and will air globally.
Featured in the special is Professor Antonia Moropoulou, chief scientist supervisor at the National Technical University of Athens who is in charge of fixing the crumbling structure. It's a race against time and religious sensitivities, as the restoration must be completed before the Easter Ceremony of the Holy Fire.
The damage mandates that the tomb must be opened for the first time in hundreds of years, but the church patriarchs will only allow it to be opened for 60 hours. Experts say that opening the tomb after hundreds of years could transform what we know about Christ's "final resting place."
Check out a preview clip from the special here:
The Secrets of Christ's Tomb: Explorer Special, Sunday, Dec. 3, 9/8c, National Geographic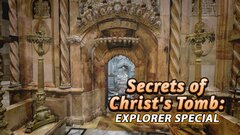 Powered by