'Gotham': Robin Lord Taylor Previews a 'Most Gnarly' Dinner Scene
Dinner is served! May God help us all.
In Thursday's episode of Gotham, "Let Them Eat Pie," Penguin (Robin Lord Taylor) hosts a VIP affair for the city's upper crust, an— as is wont to happen with this bat-tastically fun drama—the menu includes shady alliances, jaw-dropping developments and one seriously demented chef.
See Also
Third Ivy's a charm?
"It is really something!" Lord Taylor exclaims. "It is one of the most gnarly scenes I've ever had to shoot, and that's saying a lot for our show."
Explaining that the bit in question is a fundraiser dinner for the orphanage Oswald is running with Sofia Falcone (Crystal Reed), the actor agrees that biggest threat he should have to worry about is the mobster's crafty daughter—especially since neither of them know who's zooming who.
"They've been doing this whole dance over these last couple of episodes, and at this point, Oswald is so intent on proving that she's full of s**t," he says. "Either that, or she is actually, genuinely emotionally invested in him in any sort of way. This is like a culmination of this dance of endurance…every time he thinks he has her pinned down, she has a little counter move, or something happens to throw everything off. It's really dynamic and exciting."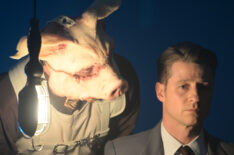 See Also
Theater vet Michael Cerveris fills us in on the new baddie in town.
Instead, the meal takes a stomach-churning turn courtesy of Professor Pyg (Micheal Cerveris), who sneaks in as the caterer for the fancy event in hopes of serving Penguin and his haughty 1-percenter guests something far worse than humble pie. Let's just say the guy in the porcine mask has found a new way to put the heat on Gotham's most corrupt.
"Pyg is after him. And I love the dynamic that Pyg and Oswald have because Pyg is all about exposing the most gluttonous, greedy, depraved side of humanity, whereas Oswald considers himself to be quite the refined gentleman," Lord Taylor laughs. "Pyg dares to show Oswald that he may wear a beautiful, fancy suit, but he is just as much a pig as the Professor is. It's a really great way for Oswald to learn a little and to have a little introspection. It's like a Very Special Episode of Gotham!"
Also, an extremely gory one. And while Thursday's outing clearly has Lord Taylor psyched, there's one he's even more excited for fans to see.
"Episode 13 is with me and Camren [Bicondova]," he giddily teases of "the first time" we get to see Penguin and the emerging Catwoman in some sort of cahoots. "I think it's gonna make everyone s**t their pants."
Gotham, Thursdays, 8/9c, Fox