What's On: 'Ill Behaviour' on Showtime, 'War Dog' on HBO, Robert Kirkman reveals Wonder Woman's 'Secret History'
A critical checklist of notable Monday TV:
Ill Behaviour (10/9c, Showtime): Let the spelling be a clue that this most unconventional six-episode dark comedy hails from England. And let the casting of You're the Worst star Chris Geere and Masters of Sex siren Lizzy Caplan tip you off that no one's playing it safe here. If you thought Worst pushed comedy's boundaries with its treatment of depression, Behaviour goes even further with the third-rail topic of cancer. Geere plays Joel, a manchild first seen perching pantsless on a railing, tossing money into the London streets after an unhappy but lucrative divorce. He leans for support on his best bud Charlie (Tom Riley), who later reveals he has cancer and has chosen to skip chemotherapy to heal naturally. Consulting the prickly Nadia (Caplan), an oncologist and sex partner he met online, Joel plots to thwart his friend's best intentions and cure him by any means necessary. I almost fear to see where this one's going.
War Dog: A Soldier's Best Friend (8/7c, HBO): Guaranteed to melt even the stoniest of hearts, this poignant documentary is a Veterans Day salute to the deep bond between elite Special Ops soldiers and their K9 companions. These loyal canines risk their lives on missions and provide invaluable emotional support to troops in war zones.
Robert Kirkman's Secret History of Comics (10/9c, AMC): The six-part documentary series, which began Sunday with a history of Marvel comics, moves into its regular time period with the Walking Dead creator turning his attention to "The Truth About Wonder Woman." Kirkman looks into the controversial, kinky personal history of the iconic superheroine's creator, Professor William Marston.
Man With a Plan (8:30/7:30c, CBS): Matt LeBlanc returns for a second season of the sitcom that feels like the sort of parody of bad TV you'd find in his previous series, Showtime's Episodes. Deserves a moment of silence, not a sweetened laugh track.
Inside Monday TV: The winnowing continues on NBC's The Voice (8/7c), which enters the "Playoff" phase. Jennifer Hudson and Blake Shelton reveal their Comeback Artists as they cut their teams in half, sending three of their six remaining singers to move on to the live shows. … This was bound to happen. Dr. Shaun Murphy (Freddie Highmore), otherwise known as ABC's The Good Doctor (10/9c), takes on a patient with autism. … To celebrate Sylvester's (Ari Stidham) birthday on CBS's Scorpion (10/9c), the team goes low-tech, dressing up to attend a renaissance festival. Mayhem inevitably intrudes.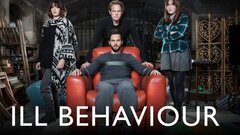 Powered by